Electrical distribution meets monitoring and control

Remote monitoring of electrical devices such as MCBs and RCDs in low-voltage electrical distribution is just one of the features of Schneider Electric's latest innovation. And devices can even be controlled and reset remotely. Ken Sharpe has been finding out more.
All manner of HVAC equipment such as boilers, air-conditioning equipment and air-handling units has long since been capable of being remotely monitored and controlled — including over the Internet via a built in web browser. That sort of capability has now been brought to low-voltage electrical distribution boards for commercial buildings from Schneider Electric with the launch of the Acti 9 range.
At the heart of its development is the capability to be able to easily connect to a building-management system using the Modbus protocol. Prefabricated plug-in control-cable connections make it easy to connect devices such as MCBs, RCDs, energy meters, contactors etc. to a SmartLink interface. Up to 11 devices can be connected to a single SmartLink interface to an appropriate gateway. And if 11 devices is not enough, up to 32 SmartLink devices can be connected to one Gateway — giving the capability of monitoring 352 devices in the distribution board.
Being able to monitor energy meters has obvious potential, with the requirement in Part L2 of the Building Regulations to meter energy use in non-domestic buildings. For electrical consumption, Schneider has developed a MID-compliant (Measuring Instrument Directive) range of devices that are the same size as an MCB and which can be mounted onto the same DIN rail. Energy data can be monitored and stored long term and is not lost in the event of a power failure.
Energy-monitoring devices with pulsed outputs from other manufacturers could be used with the prefabricated cables, but the plug-in connector at the device end would need to be removed and the cable hard wired. That said, a 24 V DC supply is available from the SmartLink unit. Possibilities include utility services such as gas and water.
The same control concept makes it possible to remotely monitor the state of components for automatically interrupting such as MCBs and RCDs — rather than having to visit the distribution board itself. It is even possible to reset devices remotely.
For example, the status of an MCB can be identified as on, off or tripped. The number of on/off operations can also be monitored, as well as the number of trips due to faults and the number of running hours. The same functions are also offered for RCDs.
OK, much of this monitoring and control capability could be added to earlier generations of distribution board and their components. What Schneider has developed, however, is a system that is much simpler and quicker to install. The company claims a 40% saving in the time spent with control wiring and also up to 15% time savings on design and installation by using smart connections with prefabricated wiring. These savings are to be compared with a conventional communication system.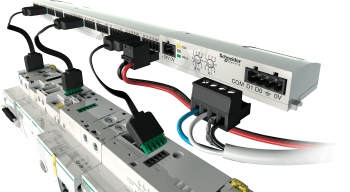 Tom France, marketing manager with Schneider Electric, explains, 'Inherently, integrating final distribution panels with facility-management solutions could be a challenge, whereby running control and communication cabling, in addition to electrical wiring, could be complex and error prone.
'With Acti 9, we have effectively eliminated this issue. It is simple to use, ready to connect and easily integrated with all facility- management architecture.'
Going a stage further is Schneider's own supervisory software, which has the capability of identifying all he various components in a distribution board. The software can also check control wiring.
Acti 9 is the latest in a long history of electrical-distribution technology and replaces Merlin Gerin's (the company is part of the Schneider Group) range of components and Isobar distribution board. The latest development is based on five generations of industry experience.
The extent of the advances made in the development of Acti 9 is indicated by there being 22 patents. Two examples are the VisiSafe and VisiTrip features. VisiSafe includes a distinctive green strip on devices such as RCDs and MCBs to provide a very clear visual indication that the device is open. VisiTrip provides a similar clear indication of a tripped device. In addition, the protection devices are available with a very high over-voltage (6 kV), so they can be used anywhere within the distribution system.
The wide range of components includes MCBs from 0.5 to 125 A with breaking capacities from 10 to 50 kA. There are also RCDs up to 125 A with sensitivities from 10 to 100 mA. Other components include surge-protection devices, auxiliaries and accessories, control and indication devices.
Related links:
Related articles: