Monitoring energy is the key to saving energy

Knowing how much energy is used in a building is the first stage towards potentially achieving energy savings of up to 30%. David Lewis of Schneider Electric discusses how sub-metering has made monitoring energy easy and effective to achieve.
As the nation progresses towards a brighter, more sustainable future, energy visibility is paramount for optimised efficiency. With this mind, advances being made in sub-metering are paving the way for businesses to gain greater insight into the energy use of their power distribution systems and enable informed commercial decisions. This ability, which can be linked to overall control of a building, can help to achieve energy savings of up to 30%.
The UK's property market is at its highest since the economic downfall in 2007. In the final quarter of 2013, demands for shops and industrial units rose at the fastest pace for at least 15 years according to the Royal Institution of Chartered Surveyors (RICS). The report suggests increasing optimism about the UK economy with more accessible lending filtered through to commercial properties to give the highest reading on the strength of demand since records began in 1998.
The commercial property market plays a significant role in these rising figures, with London leading the way in the retail and office space sectors, while demand in other regional areas slowly spreads.
Commercial buildings, by nature, operate around the clock. Even when the building is not 'in use', many systems such as security and computers continue to run. It is therefore no surprise that with energy efficiency at the forefront of everyone's minds, commercial premises are coming under more and more scrutiny to improve their energy usage.
Launched in February, the Government's new CRC Energy Efficiency Scheme focuses on the reduction of the tax burden by reducing energy consumption in commercial properties. As such, commercial landlords are becoming increasingly aware of the benefits of using smart systems such as sub-metering to quantify, benchmark and meter building electrical usage, as well as determine their tax bills.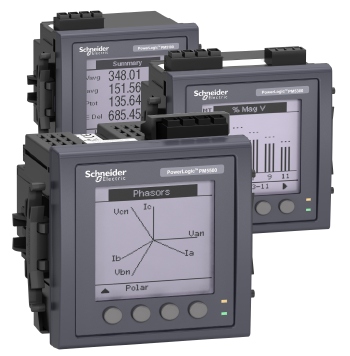 In addition, the UK Green Building Council has campaigned for Display Energy Certificates (DECs) to be mandatory for all commercial buildings. Buildings must display a DEC if they have a total useful floor area of more than 500 m2 and they are occupied or part occupied by public authorities. For buildings larger than 1000 m2, the DEC must be renewed every 12 months and between 500 and 1000 m2 it must be renewed every 10 years. It's therefore vital that any commercial landlords who are responsible for buildings of these types can measure and demonstrate their energy usage.
From basic tenant metering and billing, through to advanced energy management, sub-metering can help deliver the information and control that landlords need to gain deeper insight into their energy usage, to increase energy efficiency and reduce costs.
Schneider Electric's Power Monitoring System (PMS) and Power Logic solution, for example, are advanced metering and software systems that monitor, record and report a building's energy use in order to reduce energy costs and maximise efficiencies.
The systems give users three options — information displayed in an Internet browser, information displayed on a specially designed system, or the choice to have a remote system that Schneider Electric can monitor and provide energy services to help make their business more efficient.
Through timely and accurate bills, such sub-metering systems provide users with the tools to manage, understand and reduce their energy consumption. It is estimated that by doing this, businesses can expect to save up to 10% off their bills.
The current issue of creating a more sustainable, low-carbon economy in the UK is largely dominated by how we should generate energy in the future. However, commercial buildings are responsible for 10% of the UK's greenhouse gas emissions and play a key role in helping the UK to meet its 2050 Climate Change Act targets. In this tough economic climate, there is a huge deal to be gained from increasing energy efficiency in commercial buildings. Landlords are gradually becoming aware of sub-metering as a way of helping them to gain insight into their energy usage, increase energy efficiency and reduce costs.
Related links:
Related articles: