Water under control

Lower water consumption and better hygiene levels. What more could you want for washrooms? David Meacock of Cistermiser looks at retrofit options to bring water use down but keep hygiene standards up.
Washrooms may not appear to be particularly expensive areas to run within a building, but don't be fooled. A single WC can easily cost £1000 per annum. Over the same period, one urinal can cost around £300, purely in water usage, much of which is wasted.
Urinals without flushing controls, for example, are easily responsible for the majority of the water used in commercial and public buildings. And if they don't have partial flush controls either, washrooms within a building can account for up to 75% of its overall water consumption.
Added to which is the water that may be used in showers, baths, and basins within the washroom. Taken together, in a care home or hotel where there is an almost continuous use of hot and cold water, and the owners can be looking at a substantial annual water bill!
Little surprise then, that reducing water use in shared facilities can be a serious concern for building-services teams.
The older the building the higher the likely water consumption, with the worst culprits almost certainly being the older urinals. With no fitted flush controls they run continuously, regardless of the number of visitors to the facilities, and often at a higher rate than specified by the regulations.
Reducing water use is not the only issue surrounding washrooms.
When it comes to fitting out a washroom, building services must also consider the ease with which users can cope with the technology. For example, can elderly residents in a care home use a flush lever? And are the fixtures and fittings robust enough to deal with the expected level of daily use? Something as simple as a broken flush mechanism, or even vandalism, can put a washroom out of action for days.
There is also the issue of hygiene. How do engineers and owners lower water use and keep washrooms hygienic in buildings? That becomes even more of a headache in buildings such as schools or hotels that aren't fully occupied all year round, which means there are extended periods when the systems and pipework, including dead legs, are not regularly flushed through.
Happily, there is a range of relatively inexpensive options that can lower water use while maintaining effective sanitation. They are suitable for new installations or for retrofitting within existing facilities.
When it comes to tackling water wastage, waterless urinals might seem to be an obvious solution to reduce water use, but they still require water for cleaning and maintenance — not to mention hefty doses of chemical treatments.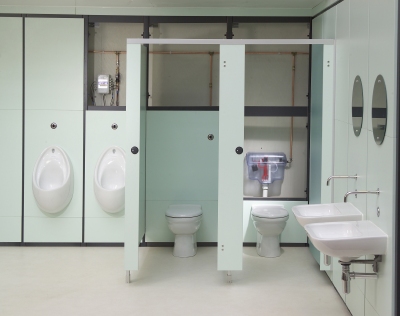 Flush-control products, on the other hand, are low cost, relatively easy to install, uncomplicated for the end-user, and deliver significant water savings. They can also ensure high standards of hygiene within the facility.
A simple and inexpensive option would be to fit an hydraulic control valve to the pipe filling the urinal cistern. Activated by a change in water-pressure, the valve remains closed if there is no washroom activity (halting the constant flush-fill-flush cycle of the urinal cistern) until a tap is turned on. At this point the water pressure drops, the valve opens and the cistern refill cycle continues. This alone can drop water usage from some 157 000 l for a urinal with no flush controls to just 28 000 l per annum with a control valve.
Adding infra-red technology delivers even greater control, again at no great cost. Here, a sensor detects user presence and triggers solenoid valves to open, delivering water into the washroom system as required. An infrared sensor-operated WC cistern flush valve can save some 403 000 l of water per year (based on 50 users flushing five times per day, 260 working days of the year).
For buildings where the principal users may not always be relied on to flush, installing infrared sensor-operated flushes will help to significantly improve washroom hygiene standards. When the washroom isn't being used the water supply is shut off, meaning there is no risk of taps left running unchecked, or flooding caused by damaged outlets — deliberate or otherwise. It also ensures the water supply can be safely turned off should there be a fire in the building.
The use of infrared sensors can be extended to control both water and energy output, for no great cost and with relative ease.
These systems work by detecting visitors to the washroom, at which point the systems automatically switch on the lights and ventilation as well as the water supply. And with some systems there is the added benefit of an ambient-light sensor which turns on the lights only when natural light levels are too low, again to reduce energy usage.
For large buildings with two or three washrooms on each floor (gents, ladies and disabled), the ability of managers to control individual washrooms across different floors, shutting them down or turning back on again remotely depending on occupancy, can be a major selling point.
David Meacock is technical director with Cistermiser.
Related links:
Related articles: