Plate heat exchanger connects sealed boiler to open-vented system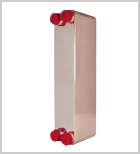 Bosch Commercial & Industrial heating offers plate heat exchangers that enable its GB range of boilers to be fitted to an open-vented system. They are designed to separate boiler and system water and are available to match every combination of single or cascade installation from 65 to1240 kW.
These heat exchangers have tailor-made insulation to minimise heat losses and are compatible with Bosch's range of commercial controls to modulate boiler output via feedback from flow-temperature sensors.
Related links:
Related articles: