The perks of prefabrication

Even though using prefabricated valve sets in water distribution systems saves time and money and can make life a lot easier for those on site, they're still not the obvious choice for many contractors and installers. Oliver Jones of Marflow Hydronics tries to find out why.
Prefabricated valve sets are engineered terminal valve sets that incorporate a suite of valves and fittings to optimise and maintain control of a fan coil, chilled beam or other hydronic unit. They are supplied as pre-assembled and pre-tested units that are fully prepared for installation into a fan-coil assembly or separately into a building's roof space. This means that ease of installation is maximised and commissioning is far easier too.
The products offer multiple benefits, such fewer joints so the leak potential is drastically reduced. They arrive ready to go so there is no need for further fabrication, reducing installation time. Other issues are eliminated, such as the need for a hot-works permit, which has become a real issue for some companies.
The latest development in prefabricated units is suppliers creating more compact, 'off-the-shelf' versions. This speeds up manufacturing time and reduces lead time, meaning that customers can get products far more quickly. This is a major bonus for the products.
One of the drawbacks has potentially been that the lead times are longer, so thinking ahead is a major prerequisite for anyone considering a prefabricated valve set. However, innovations such as the more compact version are increasing the appeal of the product.
The right application
There are multiple applications for prefabricated valve sets, but a very popular solution is to use them with fan-coil units to provide other key benefits.
Manufacturers of fan-coil units can fit the products over an extended drip tray to catch condensate and water from any leaks, rather than water running into the ceiling or causing other more hazardous difficulties.
Also, no matter what the application, prefabricated valve sets can be easily lagged to protect them from freezing. In fact, the whole unit can be lagged instead of just individual components at separate points and all components are sized to suit the application. This creates a far more tailored solution.
Smart Choice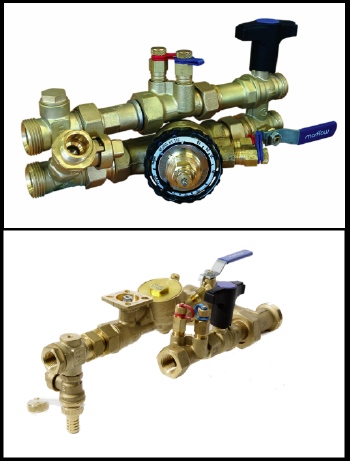 I could probably go on for pages more about the numerous benefits of such a system, but it is easier to list the reasons for not using such a system — but this then leaves the question, 'why aren't they being used by everyone?' Contractors and installers are still overlooking the advantages, buying the separate parts themselves and fabricating them on site.
The main objection I have found is that people seem to believe that prefabricated valve sets cost far more. It seems like a much cheaper option to do all the work yourself. However, this is a massive false economy. Manufacturers have all the parts ready to go and do all the hard work themselves, so when you get the product on site, it's ready to go.
If a person was to fabricate the valve set on their own they'd have to first research and buy all the parts needed, probably from separate suppliers if they're going to find the best prices. And this means getting in multiple quotes. Then they have to size them properly, which can cause major issues in itself, which it is vitally important to get right. Then there are the installation costs and time involved in doing it all.
When looking at the basic cost of the separate parts compared to the whole prefabricated unit, it may seem a far better deal to do it on your own, but it's all the other things that are involved, like time factors, that are so often overlooked — which is where prefabrication comes into its own.
Another little thing that can help massively is the fact that the products come ready labelled. It may seem like a tiny extra, but the convenience attached to this feature is huge.
I think that prefabricated valve sets are a smart choice for any installer implementing a chilled-water application, or a heating system as well, and it must be a consideration if users are looking to cut down costs and time on site. They are vastly convenient products that provide peace of mind by arriving fully made and tested; they then speed up and save costs on the whole installation and commissioning process. Whether you believe they are right for your project or not, they're definitely worth a look.
Oliver Jones is sales application engineer at Marflow Hydronics.
Related links:
Related articles: