Mitsubishi's app for air-conditioning engineers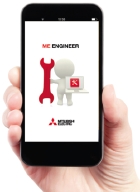 Mitsubishi Electric has developed an app to give installers and service engineers up-to-date information on the company's entire range of products. 'ME engineer' is available for Apple, Android and Windows mobile devices and can be used offline for checking details such as a dipswitch setting or looking up a thermistor value.
The app includes a refrigerant calculation tool for splits and City Multi air-conditioning systems. There is also a facility to look up spare parts and a fault-code finder for all products — with full description, cause and check procedures.
This app can be downloaded by entering 'ME engineer' into the search field of iTunes, Google Play or Windows app stores.
Related articles: