Spirotech filter has magnetic appeal for Wolverhampton Homes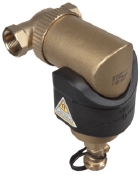 Wolverhampton Homes, an arms length management organisation operating on behalf of Wolverhampton Council, is working towards installing Spirotech magnetic dirt separators on some 19 300 properties as part of an ongoing maintenance programme. The decision to use the SpiroTrap MB3 magnetic dirt separator was based on a product evaluation that identified brass construction, ease of service and 20-year guarantee as key features.
Roy Parlor, contract and compliance manager with Wolverhampton Homes, explains, 'About 95% of the boilers we install are manufactured by Worcester Bosch Group. When specifying a new brand of dirt separator, it was important that our main boiler supplier was in agreement. Worcester is aware of our switch to Spirotech and understands the protection the SpiroTrap MB3 can provide to its advanced heating systems.'
The external magnet can be quickly removed without having to disrupt the system, enabling the magnetic dirt particles to fall into the collection pot for draining during servicing.
Roy Parlor, comments, 'In the time that we've been installing the MB3, our engineers have found that this magnetic dirt separator is cleaner to work with, making cleaning the filter a much easier and quicker process.
'Following all the positives we've experienced whilst working with Spirotech the plan moving forward is to continue to install the MB3 on system upgrades and as needed during a service or to replace old units.'
Related links:
Related articles: