EnergyVision integrated automatic monitoring and targeting software
The new EnergyVision automatic monitoring and targeting (AMT) software is specifically designed to be fully compatible with the CentraLine AX range of Hawk integration controllers and the Arena building management supervisor.
Metering, monitoring and management is critical to ensuring the energy usage of a building is minimised whilst optimising the occupants' comfort conditions.
Successful and meaningful metering is dependent on measuring significant areas of a building's energy usage.
Within practical and cost-effective restraints increasing the number of metering stations for equipment, plant and zoned areas improves the accuracy of data analysis — enabling the targeting of high energy usage.
Increasing the volume and relevance of information, i.e. the number of meters, puts a higher demand on the monitoring of a system in terms of availability, manipulation and presentation of real-time and trended data.
Ultimately energy-management success is dependent on readily understood information based on accurate monitoring used to make decisions and, where appropriate, the building-management system (BMS) directly or indirectly making corrective control actions.
However, increasing the number of meter data collection points and integrating automatic monitoring and targeting with BMS can be prohibitively expensive.
CentraLine clearly understands from talking to specifiers, users and its own Partners that automatic monitoring-and-targeting software requires a high degree of flexibility both in technical features and economic efficiency.
Essentially the challenge is to install a monitoring-and-targeting system that provides maximum opportunities for energy reduction whilst being economically viable and compatible with the building's control system.
The CentraLine EnergyVision is fully integrated with the Niagara AX software running on both the Hawk integration controller and the Arena Supervisor to offer a wide range of technical features that are cost effective to the application size and complexity.
The EnergyVision has been designed for ease of installation, ease of operation and ease of expansion.
However, a simplified system does not mean a loss of key features. The EnergyVision incorporates energy display dashboards, benchmarking and analysis built on familiar Niagara AX graphics.
Visually informative energy dashboards provide graphs, charts and analogue dials which in the 'Kiosk Mode' rotate sequentially — ideal for the building foyer or reception.
EnergyVision features include weekly, monthly and yearly benchmarking graphs — with the ability to compare previous years with the present year.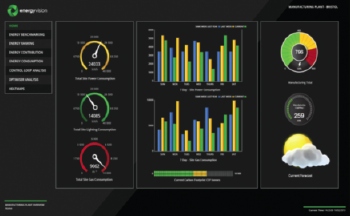 Aggregation of meter data provides graphical comparison and ranking of different zones, systems and buildings with intelligent data normalisation including meter 'roll over' and periods of missing data.
Instant and automated reports generated from each graph or chart as a PDF or CSV (comma-separated values) file can be stored or sent to email accounts.
Monitoring and targeting is facilitated by graphical displays of total and peak consumptions adjacent to graphs comparing the daily and target energy profile.
Pre-set or historical targets allow users to visually compare the actual daily consumption with the ideal energy profile or target.
The EnergyVision software is scalable and very flexible. Individual Hawk integration controllers have a capacity of 12 meters, and the Standard Arena version with 75 meters can be upgraded to the professional version with 'unlimited' meters.
Jim Cook, senior CentraLine engineer, summarises: 'EnergyVision is an excellent solution, providing energy monitoring and targeting capability for our CentraLine range.
'It is seamlessly embedded with the integration, control and graphics of the Hawk and Arena running on the same Niagara software framework.'
We are particularly excited at the opportunities for smaller applications where a single Hawk AX with EnergyVision software can provide integrated automatic monitoring and targeting for up to 12 meters.
'Online training for our partners takes only one and a half hours, a clear indication how straightforward the EnergyVision is to understand and apply.'
CentraLine's approach to the release of EnergyVision appreciates the need to offer realistic cost benefits to partners and their clients without imposing annual fees and limiting the number of users.
Jim Sword, CentraLine by Honeywell and Ex-Or UK sales leader, says, 'I am delighted that we can offer the EnergyVision integrated energy monitoring and targeting to our partner network and their customers. We now have a product that integrates completely with AX software to offer flexible cost-competitive solutions for a wide spectrum of building sizes and applications.'
Related links:
Related articles: