Maximising the benefits of underfloor heating

The many benefits of underfloor heating, perhaps with cooling, can be maximised with the help of powerful control. Malcolm Jacques of Warmafloor takes up the story.
Over the past few years, there has been a government-led drive for energy efficiency in both the public and private sectors. EU and UK Government legislation is increasingly compelling companies to reduce carbon emissions, and discussions surrounding the recent COP21 summit in Paris show that energy reduction targets are likely to become even tighter in the future. Recent initiatives include the domestic Renewable Heat Incentive and the introduction of stringent energy-reduction targets, as set out in the Department of Energy & Climate Change's Carbon Plan, which imposes a 2050 deadline for the UK to cut its greenhouse gas emissions by 80%.
One of the solutions to these legislative drivers lies underneath the floor; underfloor heating and cooling systems are able to make buildings more energy efficient by reducing energy consumption by 15 to 20 per cent compared to even the most efficient traditional heating systems. Such reductions mean that underfloor heating and cooling systems provide huge savings for individual homes, businesses and large-scale developments. Underfloor heating also provides 70% radiant heat, offering a more comfortable climate than radiators.
The control technology behind heating and cooling is becoming more important because it is essential to have an effective interface in place between the user and the underfloor heating and cooling system to realise all the efficiencies on offer. In order to meet these needs, Warmafloor, a leading underfloor heating and cooling specialist in the UK, has developed an underfloor heating and cooling control technology, called TICS Modular (standing for Total Integrated Control Strategy). This solution is giving building managers across the UK the ability to achieve higher energy efficiency and reduce their overall carbon footprint through precise and intuitive control, a benefit not currently available with traditional heating systems.
The TICS Modular solution is versatile, intelligent and simple to use. Its user-friendly, touchscreen control system enables building managers to operate a property's cooling, heating and hot water systems from one central location. As well as having manual controls, the TICS Modular system has the intelligence to ensure that the least-expensive available heating and cooling sources are used first, thereby keeping costs to a minimum.
The Proportional-Integral Derivative logic (PID) integrated into the system can identify all of a building's energy sources — including boilers, solar panels, heat pumps and air-conditioning units — and instantly assess which is best suited to match the energy requirement at any given time.
TICS Modular can ensure that heating or cooling is delivered at the most cost-effective price where it is needed the most — in the bottom two metres of the room, creating a comfortable atmosphere for people to work and move around in, providing a substantially more consistent and even heat flow. This, in turn, contributes to the overall energy efficiency of the building, producing effective 'steady state' conditions all year round — an added benefit to those looking for optimal building management.
Another benefit of underfloor heating is that many of the renewable heat sources available under the RHI (Renewable Heat Incentive) scheme are compatible with underfloor heating. If a property has both a renewable heat source and underfloor heating installed, not only will payments be received through the RHI for generating energy, but energy bills can also be reduced.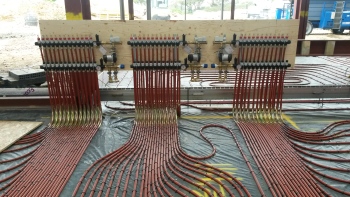 TICS Modular recognises that buildings are often multi-use spaces, each with their own variable needs for heating and cooling. This matches one of the key design objectives of the system — to effectively manage the complex multi-use environment efficiently and effectively so that maximum satisfaction is achieved for the various users of the building. The accuracy of the new technology can control temperatures to within ±0.5 K, as opposed to the industry-standard 4 K. This allows the system to function at minimum cost, as when the temperature is lowered by just 1 K, heating bills can be cut by about 8%.
As there are no moving parts below the floor of an underfloor heating system, there is little that can go wrong. If correctly installed, pressure testing of the pipes means any potential leaks will have already been identified at an early stage and dealt with prior to screeding. As a result, another advantage of underfloor heating is that there are no regular maintenance costs to incur, unlike traditional convection heating.
Despite being a recent technological development, TICS Modular already has a proven track record across a range of new buildings in both the public and private sectors. In the residential sector, the solution has been chosen by Land Securities and British Land for a number of their major projects in London. Warmafloor has also recently installed a bespoke underfloor heating and cooling solution at Daedalus, the new business enterprise park in Lee-on-the-Solent, for UTPCO (Universal Tool and Production Co Ltd).
As financial and legislative pressures continue to increase, intelligent control solutions are now becoming the pre-requisite for delivering both commercial and residential energy-efficient buildings. The TICS Modular underfloor heating and cooling solution offers significant energy savings coupled with improved satisfaction levels of the users' total comfort levels to deliver a truly efficient building.
Malcolm Jacques is commercial manager of Warmafloor.
Related links:
Related articles: