Getting the best out of heat interface units

Heat interface units (HIUs) have a key role to play in enhancing the user experience of community heating and maximising its efficiency. Colin Judd of BSRIA explores the issues.
Heat Interface units (HIUs) comprise a packaged set of components necessary to connect a consumer's heating and/or hot-water system to the heat network. It is a self-contained system that either heats or cools a single-phase fluid by transferring sensible heat via a plate heat exchanger. The fluid is mechanically circulated by a pump that is normally integral to the HIU. A typical HIU may consist of a range of components — including one or more heat exchangers, pipework, valves, heat meters etc.
An HIU is an essential part of the efficient delivery of heating and hot water to consumers on district and communal heating schemes for multi-dwelling developments. The HIU provides safe connection of the consumers' space heating and domestic-hot-water systems to the primary heat-supply network, together with the control function and metering. It is also possible to implement HIUs into a communal chilled-water circuit for space comfort cooling.
Over the past 20 years there has been increasing recognition that heat networks incorporating HIUs, particularly those associated with CHP (combined heat and power) systems in urban areas, are a key element of a low-carbon future. The growing use of HIUs can also be attributed to reduced installation and maintenance costs compared with other heating and cooling appliances where Gas Safe and/or F Gas regulations need to be adhered to. HIUs are being commonly used in new developments to achieve 'zero-carbon' ratings. Their use, linked to a district or communal heat network in place of a domestic boiler, can have significant economic and environmental benefits depending on the source of heat and structure of the network.
BSRIA has seen significant growth in the testing of these products, and they continue to increase in popularity. However, most relevant European test standards consider only the thermal performance of the heat exchanger as a stand-alone component. To accurately determine the thermal performance of an HIU, the package as a whole should be considered when carrying out testing. Measurements should be carried out to include all ancillaries associated with the HIU in order to produce robust results.
As there was not a specific UK industry agreed test standard or methodology for testing HIUs, BSRIA set up a steering group in June 2014 with BSRIA members and industry stakeholders to begin discussing and developing the methodology around it.
BSRIA was able to employ its knowledge and existing information into producing the test standard that will be valuable for BSRIA members and industry alike. The end product was 'BTS 2/2015 test method for heat interface units'.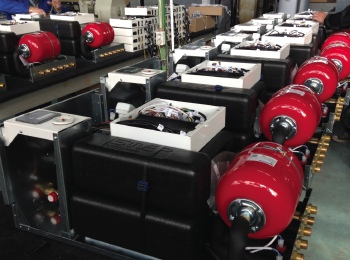 The standard covers testing HIUs to a specific set of conditions. This allows for a means of comparison between manufacturers and creates a level playing field across the industry whilst also serving as a reference point for manufacturers, contractors and the end user. The test methodology within the standard can also be applied to chilled-water space-cooling HIUs.
As with all HVAC components, installation, commissioning and maintenance of HIUs is important. To address this, BSRIA has recently produced in conjunction with BSRIA members and industry representatives an installation and maintenance guide entitled BG 62/2015 which covers this area.*
The guide focuses on the issues surrounding the application and installation of both direct and indirect HIUs for residential and small commercial applications within district or communal heat networks. It will assist specifiers, designers and installers to achieve a functional and efficient solution for space heating and hot water using HIUs and dovetails with the HIU product test standard.
Colin Judd is senior test engineer with BSRIA.
Related links:
Related articles: