Enjoying the Avanti effect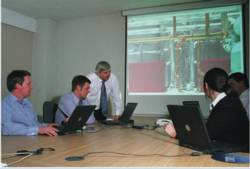 TONY MATTHEWS reports on the progress of the Avanti initiative, which is demonstrating the value of information and communication technologies on real construction projects'Collaboration: the act of working in conjunction with others.' Most construction professionals would readily subscribe to this dictionary definition of collaboration. Living up to it in day-to-day business is another matter. So much gets in the way of truly collaborative working. Adversarial contracts, retention clauses, poorly coordinated drawings and embedded company cultures all blame, rather than solve, attitudes. All these factors prevent architects, consultants and contractors working together seamlessly. Clients do not make things any easier by their failure to issue a proper brief and by expecting design to run in parallel with construction.
Mechanisms
What is clearly needed — particularly at a time when computer-aided design is becoming the norm — are mechanisms to improve the electronic sharing of project information. For the last couple of years, Avanti has been helping to do just that. Avanti is an approach to collaborative working that enables project partners to work together effectively. Avanti focuses on people and processes, mobilising existing enabling technologies. Team working and access to a common information model are at the heart of the Avanti approach to a project's whole life cycle. Avanti is not a prescribed methodology. Different methods will suit different projects, but they should still based on the same Avanti principles. Avanti is not any specific type of design model. It can be applied to 2D, 3D or full object modelling. To date, Avanti has supported project teams in adopting collaborative working practices on live projects — encouraging and facilitating early access to all project information by all partners, early involvement of the supply chain, and sharing of information, drawings and schedules in an agreed and consistent manner. The Avanti approach is supported by handbooks, toolkits and on-site mentoring.
Agreed
Integratable software is a must. Communications protocols have to be agreed early on by the whole team, as does management of workflow. The proliferation of different platforms within a project can cause major problems, ranging from inability to view drawings at one end of the spectrum to loss of co-ordination at the other. Most of these problems can be overcome by using common file exchange methods. For this approach to work, everyone in the process must use software that at least uses similar structure and formatting. Standardisation should also apply to the way documents are created, and to the documents-management procedures. On many projects, the project extranet has replaced the postman, but it will not stop other forms of communication. Where project teams stick to the agreed project communication channel, information flow can be beneficial to the project. However, when people revert to more traditional methods of communication, they risk damaging the quality of information between the parties. The consequent need to re-key data, plus the risk of using incorrect issues of drawings will not only introduce time delays, but also, possibly serious, errors.
3D modelling
Many Avanti partners are now finding that 3D modelling is a valuable component in true project integration. 3D modelling offers a greater degree of design clarity and the basis for a single project model to which all partners contribute and extract all design information. By using a single project model, designers, contractors and manufacturers can visualise the design as it progresses and create drawings that are fully co-ordinated (service to service, structure to structure) and incorporate clash detection to resolve any co-ordination problems. Projects run by Avanti partners, including shopping centres, hospitals, business parks, community centres and supermarkets, are already confirming the benefits of ICT-enabled collaborative working. On the prestigious St. Helens & Knowsley hospital project, a £305 million new-build and redevelopment project, Taylor Woodrow's ambitions for the project partners (Capita Symonds, Arup, RW Gregory and NG Bailey) to share information and co-ordinate their designs and, hence, reduce wasted time and materials have already resulted in the acceptance of a 'standard method and protocol' throughout the team. A design management plan encapsulating extranet usage procedures and a project measurement plan have been published. The success of these has, in turn, led to Taylor Woodrow adopting various aspects of these processes and procedures into its company standards for all projects.
Feedback
As feedback from this and other projects under the guidance of the Avanti team becomes available, it becomes increasingly clear that the type of support offered by Avanti enables an improvement in project performance versus traditional ways of undertaking design, and is scaleable across projects of all sizes and complexity. A key objective of Avanti is to share knowledge widely with industry through seminars, workshops, articles and publications. To learn more about Avanti, go to www.avanti-construction.org or contact Paul Waskett, Avanti programme manager, tel. 024 7623 6929, fax. 024 7623 6930.
Background
The Avanti programme is a partnership between Constructing Excellence in the Built Environment, Teamwork, the International Alliance for Interoperability, Loughborough University and Co-Construct (BSRIA, The Steel Construction Institute, the Concrete Society, TRADA Technology and CIRIA). The project is part-funded over three years by the DTI. Among organisations providing significant contributions are ASITE, Balfour Beatty, Building Design Partnership, Davis Langdon & Everest, EMAP, Laing O'Rourke, Reid Architecture, Symonds Group, Taylor Woodrow and Zisman Bowyer & Partners.
Tony Matthews works for BSRIA, Old Bracknell Lane West, Bracknell, Berks RG12 7AH and is involved with the Avanti programme.
Related articles: