Exploiting the Cloud for energy management
Why should organisations and businesses be embracing cloud-based energy management tools? Tim Holman of Team shares his views.
Many organisations, in both the public and private sector, are now looking to cloud computing to help manage their energy consumption.
Those with multiple sites are looking at ways to share energy data with a large number of site contacts and employees. They want a system that can help them delegate energy responsibility to site level and provide a means for updates and feedback to be shared without delays right across their organisation. Cloud-based tools can provide the solution that enables this access, at any time, from anywhere.
So what is the 'Cloud' and what are cloud-based tools?
Cloud computing or 'the Cloud' is a solution growing in popularity and has become an increasingly viable business option in the last few years. In the simplest terms, cloud computing means storing and accessing data and programs over the Internet instead of your computer's hard drive.
However, the lines between local computing (on your hard drive) and cloud computing can sometimes become a little confusing. That's because the cloud is part of almost everything on our computers these days — for example Microsoft One Drive, Dropbox and Microsoft Office 365.
A true Cloud-based tool is only in the Cloud and not your local computer. It utilises the scalability of the Cloud with hundreds of virtual servers powering the software tools. And with an online connection, the Cloud can be accessed anywhere, anytime.
One of the main advantages is that you don't need to worry about maintaining the software yourself. The beauty of Cloud computing is that servers are off premise, out of sight and out of your hair. Suppliers take care of them for you and roll out regular software updates.
An example of an organisation that has embraced Cloud-based tools is Somerset County Council, which has introduced the Team Sigma Energy Viewer, which allows site managers to see at a glance how much energy they use, make comparisons and interrogate costs.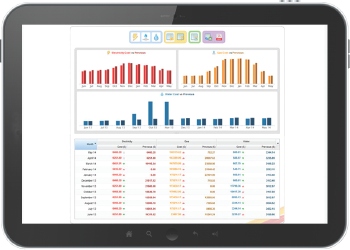 With an energy-management team of just three, the council can't physically go out to each of its 419 sites and manage the operational day-to-day use of energy.
It is therefore are using the Team Sigma Energy Viewer to help deliver the council's energy-policy objectives, and it has been well received across all its sites. Site managers have been given logins so they can see the energy data for their site — including gas, electricity and water bills, as well as automatic meter-reading data, all in one place.
Simple, but powerful and effective, this Cloud-based tool empowers individual sites of an organisation to monitor their expenditure and energy use.
This energy viewer is also being utilised by many private organisations across the UK, as well as in schools and by other councils.
The ability to back up files and store them in the Cloud has radically changed the way we use computers, mobile phones, and other devices connected to the Internet. Personal music collections or work files that you and a colleague are collaboratively editing together is something most of us use every day. No matter what Cloud tool you are using, the benefit of being able to access it nearly anywhere is phenomenal.
These benefits are now available with Cloud-based energy-management tools. Having everything in one places is the ultimate key to managing and running a successful business. We are already reaping the benefits of Cloud-based solutions for storing, accessing and processing data, and in today's ever-changing business environment, it is essential that employees have access to the energy management information they need, when they need it.
Tim Holman is Team's solutions director.
Related links:
Related articles: