Energy-management savings with minimal disruption

Effective control of HVAC systems can bring energy savings of 20 to 40%. Graham Martin of the EnOcean Alliance looks at how such substantial savings can be achieved with minimal disruption to the operation of a building.
Building operators are under enormous financial pressure when it comes to running their properties. With fluctuations in occupancy and increasing energy costs, landlords are recognising the environmental and financial benefits of retro-fitting their existing buildings to improve energy efficiency and make substantial savings.
Today, self-powered wireless systems are found in all kinds of buildings in nearly all vertical markets. As self-powered wireless systems are easy to retrofit and require minimal maintenance, many building owners are looking at them as a way to significantly reduce energy consumption.
One example of a retrofit property is the Aloha Surf Hotel in Hawaii. The installation of a self-powered keycard-based energy-management system was installed has achieved a 45% saving in energy for lighting and 50 % for the HVAC system. The combined energy savings conservatively amount to an estimated $44 000 a year. The low installation cost meant that the system showed an return on investment (ROI) without rebate incentives of 15.2 months.
Using wireless solutions that can be flexibly placed eliminates the need to install wiring and conduits, so they can be installed in about the same time it takes to clean a room.
However, a system could comprise hundreds to thousands of sensor devices, all requiring power and communication capability. Battery-powered wireless devices can be costly and time consuming as batteries last for only a limited time and must be replaced regularly and disposed of properly.
To solve these challenges, there are also self-powered wireless systems on the market, and they are found in many different buildings today. An energy-harvesting wireless module gathers the power it needs to operate from the surrounding environment — including motion, light or changes in temperature. This capability enables control systems based on sensors and switches to operate independent of an external power supply such as wires or batteries. The ambient energy obtained in this way is sufficient to measure data and to send a wireless signal as a command and control message.
Using self-powered energy-harvesting technology, an intelligent HVAC system can be realised by wirelessly interconnecting automated thermostats, window contacts, key cards, humidity sensors, occupancy sensors and CO2 sensors. These are just a few examples of the self-powered products in place, which regulate climate control automatically.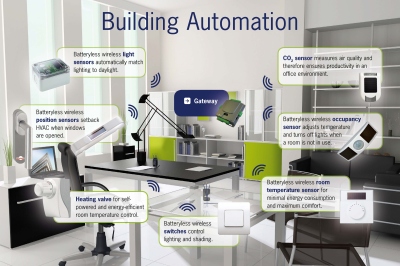 At the heart of such a battery-less wireless in-room energy-management solution could be the wireless keycard for a hotel room. Upon entering the room, the guest initiates control of the lighting, HVAC system and television by simply inserting the keycard into the keycard reader. The wireless signal is powered by the movement of placing the card into the reader. When guests leave and remove the card, all room lighting is turned off, the television is powered down and the HVAC system is set back into 'eco-saving' mode.
The Aloha Surf Hotel has self-powered keycard switches in all 204 guestrooms. The team was able to complete about 15 rooms per day, which meant little to no disruption to daily hotel operations.
Most rooms also have a battery-less, wireless sensor for the balcony door. When the balcony door is opened, a signal is sent for the in-room HVAC unit to be switched off until the balcony door is closed.
Incorporating battery-less wireless energy-management solutions into buildings can be accomplished without the costs and burden of expensive, disruptive installations. Wireless systems can be deployed in rooms without needing to take them out of commission during installation. All rooms can be pre-configured and fully programmed so that they are ready for easy installation.
The main driver for the implementation of such an energy management solution is economic. Buildings that incorporate HVAC control can expect energy savings of 20 to 40%, which typically represents a simple payback of less than three years.
Graham Martin is chairman of the EnOcean Alliance.
Related links:
Related articles: