Trench heating units are only 60 mm deep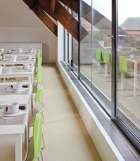 Jaga Heating Products' shallow Micro Canal trench heating is available in five lengths from 600 to 2000 mm. It is only 60 mm deep and provides an optimum balance between practical dimensions and powerful output, opening up a new range of design possibilities for building-services engineers and architects.
These fan-assisted heat emitters are ideal for use alongside windows and large areas of glazing.
A 2000 mm unit has a heat output of 1950 W (at 75/65/20 EN442). It is 130 mm wide and has adjustable heights between 60 and 80 mm.
Related links:
Related articles: