Right-size heating

Improving the energy performance of the UK's buildings remains one of the greatest challenges facing the building-services industry. With today's boilers capable of achieving the required increased reliability and high thermal efficiency, the goal now is to engineer for maximum efficiencies, says James Porter of Remeha.
Nobody likes waste, least of all businesses, which is why they've been working to improve energy efficiency for several years. Yet according to the Carbon Trust, many organisations still stand to make year-on-year savings of 20 to 30% simply by implementing measures to improve the energy performance of their buildings. With a 20% cut in energy use representing the same bottom line benefit as a 5% increase in sales in some businesses, it's certainly not a message to be ignored.
This is where the building-services industry can help, providing and implementing vital energy-saving equipment to transform building performance and deliver huge savings.
Of all the services, heating offers the greatest scope for efficiency improvements. It's the largest single end-user of energy in a building — accounting for around half the total energy use — so it's crucial that the system operates as efficiently as possible. The benefits of improved thermal efficiency are immediate and compelling, slashing running costs and strengthening the green credentials of the business. But that's not all. At the same time, the increased reliability creates a more comfortable working environment, improving staff wellbeing and productivity and driving increased profitability.
So where does the humble boiler fit into this? Commercial boiler plant provides the heating for a high proportion of UK commercial buildings. So in buildings that still rely on inefficient boilers for their heating, a simple boiler upgrade is a quick win for greater energy efficiency.
Condensing boilers offer the highest efficiencies of all boiler technologies — up to 99% gross calorific value (GCV) — and therefore the most saving potential.
But as with all heating technology, in order to achieve the maximum efficiencies, it's important to size right.
It's a fact that where heating is concerned, size does matter. Reduced space in plant rooms and awkward access can present challenges on retrofit projects. That's why manufacturers have responded with more compact and lightweight condensing boilers. Quicker and easier to install, they reduce labour costs and minimise any disruption.
But it's not just a question of physical size. Accurate calculation of both the minimum and maximum heat load demand is essential if the maximum overall efficiencies are to be achieved.
Historically, the tendency has been to size the heat output to meet the maximum requirement as this ensures reliable heating provision, even at periods of peak demand.
So what about the summer months, when demand is at its lowest?
Even the difference between commercial gas usage in autumn and winter is considerable, according to British Gas. It reveals that gas consumption increases 40% in winter for retailers, 63% for offices and a hefty 70% for manufacturers.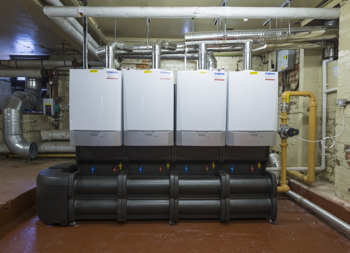 The challenge is therefore to design a system that effectively meets both the minimum and peak demand of the building.
As a first step, it is advisable to choose fully-modulating condensing boilers with internal controls as they offer closer matching of the system demand. From there, possibly the simplest, most effective means of achieving maximum efficiency is to install multiple fully-modulating condensing boilers in cascade operation. Sharing the load between the boilers enables them to match the minimum and peak heat demand more accurately. And as they use the energy input more efficiently, energy usage and costs fall and less carbon dioxide is emitted.
A further advantage of operating boilers in a modular or a cascade arrangement is enabling the boilers to operate at part load. This means they are in condensing mode for longer, again encouraging greater savings.
The heating supply is also more secure; even if a boiler should fail, there is no interruption to service. Maintenance and servicing is also easier.
Just like a car, an energy- or fuel-efficient heating system relies on smart controls to achieve the higher efficiencies. With the appropriate control, the modulating nature of condensing boilers is used to maximum effect, providing more or less output according to the requirement of the system. Using a sequential control ensures more effective and reliable operation — and drastically reduces the number of starts. Adding weather-compensation control allows the boilers to adapt to the varying requirements of the buildings at different times of years and according to the outside temperature. The result? Optimum efficiency and savings.
Forward-thinking manufacturers are constantly looking to improve and facilitate efficient system design.
One option is floor-standing boilers that arrive on-site pre-assembled, with flexible back-to-back or side-to-side installation options for neat, space-saving modular configurations. Alternatively, there is the option for wall-hung boilers delivered in ultra compact, pre-configured cascade units. Or bespoke designed rig systems, specially manufactured for individual projects, for the ultimate in speedy installation.
Providing even greater versatility are the newest arrivals, small and mighty wall-hung boilers — with outputs as high as 160 kW — that offer multiple output cascade options. Where space in plant rooms is restricted, this opportunity to move large outputs away from the floor and onto the wall is a real benefit.
Operating multiple, fully-modulating condensing boilers in modular arrangement is the business-savvy solution to immediate and future savings — at all temperatures and all times of the year. It's the simple, high-performance solution to maximum thermal efficiency. Specifiers, contractors, end users — everyone is a winner.
James Porter is sales director at Remeha Commercial
Related links:
Related articles: