Enjoying the efficiency benefits of cascade boilers

According to the Carbon Trust, heating and hot water can account for as much as 60% of total energy use in a commercial building. With energy saving high on the agenda, replacing an old, inefficient boiler may seem an easy fix, but Neville Small of Potterton Commercial explains why careful consideration should be given to the replacement and points to the benefits of boiler cascades.
Energy efficiency and building performance have become the key drivers for many building services, with HVAC systems coming high on the list. For many owners and managers of commercial rental properties an important consideration is the fact that, under the Energy Act 2011, from 2018 it will be unlawful to let premises that fail to achieve minimum energy-performance standards.
Whether let or owner occupied, the energy efficiency of a building can have a direct impact on overhead costs, so there are good arguments for evaluating existing boiler systems. In some situations, the need to replace will be self-evident — for example, where outdated, inefficient systems lead to high maintenance costs. Even systems that appear to be performing adequately may have a high energy cost. so it is worth reviewing boiler performance.
While modern boiler design incorporates huge improvements in energy performance, it should never be assumed that like-for-like replacement in terms of boiler capacity offers the best solution. It has long been recognised that there has been a tendency amongst specifiers to oversize boilers. Often this has come about through a natural desire to err on the side of caution to avoid complaints from building owners and users of under-performing systems.
Another consideration is that boilers have often been specified without taking into account the building's heat gains from people, lighting and equipment. Even if such heat gains were taken into account when the original system was sized, changes in use, occupancy, and amount and type of heat-emitting equipment may have occurred over time. Therefore, it is important to size a replacement installation based on the current building requirements, rather than rely on the size of the boiler originally specified.
Managers and occupiers of today's buildings also expect more in terms of system performance, expecting a system that is sufficiently flexible to respond swiftly, accurately and efficiently to changes in demand for heating and hot water. While this is not difficult to achieve, there are practical considerations when looking at replacement systems. The most obvious is that the new system generally has to fit into the space that was designed around the old boiler.
A solution that meets the necessary energy-performance criteria and is flexible and easy to install is a boiler cascade. This marries the best in modern technology with controls that ensure the system operates at maximum efficiency, responds rapidly to changes in usage patterns and extends the operating life and reliability of the equipment.
Cascade systems comprise multiple linked boilers which can respond more efficiently to changing heat loads and are easier to size to specific building needs. Individual boiler modulation ensures flexibility by ensuring that each boiler can adjust its operating capacity in line with demand.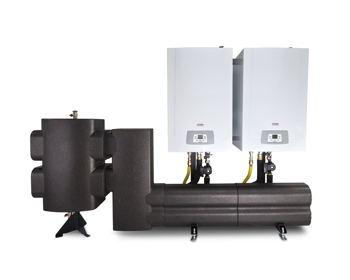 For example, the Potterton Sirius Two wall-hung condensing boiler has a modulation range of 9:1; for every additional boiler added to the system; the modulation range improves by a multiple of nine. With three linked boilers, a modulation range of 27:1 can be achieved, delivering impressive efficiencies plus low flue-gas emissions.
Cascade systems also offer a high turndown capability when only one boiler is needed, and the flexibility of this approach also means that the system will still work if one boiler in the cascade goes down.
From a practical point of view, installing a cascade system can be considerably easier and faster than a single-boiler system where the installer may have to combine a range of components from various suppliers to create a system that meets the building needs. Boiler cascades come in one package from a single manufacturer with components designed to work seamlessly together as a single product and controls systems that ensure optimum demand-matched performance.
Saving installation time and costs, cascade systems are packaged within a compact, modular framework — so when replacing an existing installation in the confines of an existing plant room, the installer won't be faced with the challenge of trying to fit a square peg into a round hole. In limited space, or in situations where access to the boiler for maintenance has been difficult, a compactly packaged cascade system can certainly deliver improvements.
With a cascade system, the issue of boiler oversizing, which adds to capital cost and reduces seasonal efficiency, can be eliminated, and a more flexible, responsive system can be achieved that delivers both optimum performance and energy savings. A solution, in other words, that ticks all the regulatory boxes while delivering increased user benefits.
Neville Small is sales director at Potterton Commercial.
Related links:
Related articles: