Smith's delivers effective heating for building redevelopment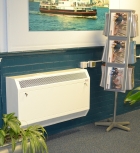 As part of the redevelopment of a late-Victorian/early-Edwardian school building in the Toxteth area of Liverpool into a conference centre, the original heating system, which was slow to respond, has been replaced with one based on Smith's Caspian Universal fan convectors.
As a result, heating bills for Toxteth Annexe, as the building is known, have been reduced because heating can be programmed to come on closer to the time requited.
A total of 23 Caspian units were installed throughout the building. They have a lower surface temperature than other types of heat emitter, which lends them to public-facing venues where a wide range of ages regularly come through the doors.
Related links:
Related articles: