Making efficient lighting even more efficient

LED lighting offers a highly-efficient alternative to traditional light sources for a range of building types — but without an effective control strategy, energy savings are typically only limited to the short term. Andy Davies of Harvard Technology explains how wireless lighting control systems can pay dividends for facilities managers willing to invest.
Given that lighting can account for as much as 40% of a building's electricity bill, it is perhaps little surprise that the transition to LED lighting has become so mainstream. Facilities managers faced with the prospect of rising energy costs and increasingly stringent crackdowns on CO2 emissions have been quick to realise the benefits that such innovations can deliver.
Many of the lighting systems operational in commercial buildings are decades old; they use inefficient traditional light sources that consume large amounts of energy and are controlled by nothing more high-tech than an on/off switch. As such, forward-thinking managers recognise there are now huge opportunities to achieve substantial savings, especially as LED lighting technologies advance in the age of the Internet of Things (IoT).
Replacing traditional fluorescent light fixtures with energy-efficient LED equivalents can deliver significant savings on electricity bills of up to 50%. However, the most cost effective and efficient solution in commercial buildings is combining LED lights with wireless lighting controls. By pairing LEDs with innovative wireless control systems savings can reach as much as 75%.
The value of innovative wireless lighting controls has been demonstrated by Oxford Brookes University, which has invested in the latest control technologies to manage its lighting, initially across two of five campus buildings. As a result, the university has made energy savings projected to reach £13 000 per annum and intends to roll out the technology across its entire estate.
A well-lit environment is essential for productive and enjoyable study for students, but the costs of illuminating a university campus can also be a huge drain on resources. Oxford Brookes has five campuses and 14 residential sites across Oxford and Swindon. Seeking to decrease costs, reduce carbon emissions and gain greater multi-site control of its lighting, the university sought to utilise the latest advancements in lighting-control technologies.
EyeNut, a cloud-based, IoT enabled, remote access, wireless control solution for indoor lighting from Harvard Technology provided the solution. It gives users the freedom to commission, configure and completely control lighting to maximise energy savings and reduce carbon emissions. Multi-site control is offered from a single hub.
Through the intuitive graphical user interface (GUI) usage patterns can be identified to enable the most effective energy strategy to be implemented. Luminaires can be switched or dimmed collectively or individually and scheduled to activate lighting when needed. Information on testing for audit tracking and energy hotspots can also be accessed.
The system installed at Oxford Brookes, comprises a cloud-based EyeNut hub, two gateways, EyeNut Adapters and 60 occupancy sensors. The solution controls 82 standard and 31 emergency commercial interior luminaires, including recessed modular, recessed downlights, surface linear and surface circular bulkheads —as well as an assortment of emergency exit signs.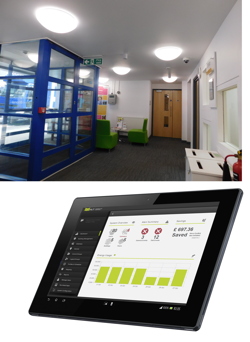 EyeNut was initially installed in the Lloyd Building and International Centre, alongside new retrofit LED fixtures. The lighting load has been reduced by 30% in the International Centre alone as a result of the more efficient LED lights and the implementation of control strategies, including daylight dimming and occupancy detection through sensors.
Lighting levels were subsequently reduced to reflect the tasks undertaken within the building, which resulted in further energy savings, equating to 48% of the new LED lighting load and equivalent to £13 000 per annum.
The installed lighting load in the International Centre was reduced from 5.47 W/m2 for LED lighting without controls to 2.84 W/m2 with EyeNut and the optimised lighting levels applied.
The University has also seen a significant reduction in maintenance costs. For example, monthly on-site tests of emergency lighting are no longer needed. EyeNut has simplified the process, as monthly tests are now recorded through the system in an industry-accepted manner.
The university is now planning to install the solution in a further three buildings — Sinclair Annex, Sinclair and Clerici. Oxford Brookes is also looking at installing the EyeNut solution across three halls of residence.
A recent development is a finance package that enables clients to realise these cost savings whilst remaining cash-flow positive.
Andy Davies is head of business development and specification at Harvard Technology.
Related links:
Related articles: