Cavendish becomes CentraLine partner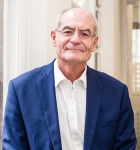 Cavendish Engineers has signed an agreement with Honeywell to become an official CentraLine partner across the entire range of building-management services. Based near Old Spitalfields Market in east London, the company has been in the industry for over 20 years.
Projects in which Cavendish has been involved include Westminster's OFGEM building in Millbank, Broadgate Estates and British Land.
Managing director Steve Allen (pictured) said, 'Our new partnership with CentraLine means we can provide BMS solutions to further enhance our move to demand-driven strategies and condition-based maintenance.'
Related links:
Related articles: