Optimising voltage in the hotel sector
Hotels can make substantial energy savings using voltage optimisation to effectively regulate the mains voltage. Stuart Clegg of Powerstar explores the opportunities.
In the UK, the average mains voltage is usually supplied at 242 V; however, the ideal operating voltage for most electrical equipment is 220V. That higher voltage leads to excessive electricity consumption, added wear and tear to on-site electrical equipment, high levels of carbon emissions and increased electricity costs.
Voltage optimisation systems are designed to correct overvoltage and bring the electricity supply in line with the requirements of each site.
Hotels represent an ideal application for voltage optimisation technology, as they suffer from inflated energy costs and long operating hours. Hotels also utilise a range of electrical equipment and have expectancy from both customers and stakeholders to deliver robust and sustainable solutions.
Hotel managers who are considering adopting the technology should be cautious about simply sourcing and installing an 'off-the-shelf' voltage-optimisation unit to install into their premises. They are encouraged to seek out a solutions provider which will deliver a concept-to-completion service, offering full analysis and monitoring of the site's electrical supply and suggest a tailored, often bespoke, solution which is engineered specifically for the facility — therefore, generating maximum efficiencies and savings.
Installations at more than 400 Whitbread Group properties, including a large number of Premier Inns, have illustrated just how effective voltage optimisation is.
Founded in 1742, Whitbread is the power behind some of the UK's most successful, much-loved hospitality brands — including Costa Coffee, Premier Inn, Table Table, Brewers Fayre, Beefeater Grill and Taybarns.
The challenge was simple — support Whitbread group's mission of becoming a 'force for good' by aiding communities and protecting the environment through reducing energy consumption and CO2 emissions, while maintaining minimal disruption to guest and business operations.
Early results showed a number of installations in large hotels outperforming the guaranteed minimum cost savings. Subsequently, voltage optimisation was implemented throughout the organisation's portfolio of sites. It proved to be a no-maintenance solution that achieved average energy savings of over 12% across the business — equivalent to over 12 000 t of CO2 emission savings per annum, which are key goals in Whitbread's 'Good together' corporate responsibility policy.
The Principal Hayley hotel group is another established hotel chain that has adopted voltage-optimisation technology within its landmark city centre hotels. The hotel management team identified the best sites for energy saving within their portfolio by carrying out site-by-site analysis. The results of the project were average energy consumption savings across their hotels of 10.93% and average annual financial savings of £18 167 per hotel.
Voltage optimisation is not just applicable for large hotel facilities and multi-property groups.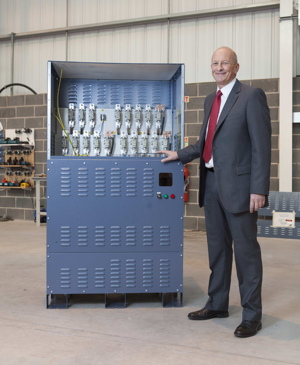 Ten Manchester Street Hotel in central London is a 4-star, 44-room boutique hotel. Following the installation of a voltage-optimisation system, it is benefiting from 21.4% savings in electricity consumption and annual financial savings of £9519.
Similarly, the scope of the technology expands beyond hotels — with leisure parks, resorts and country clubs all being able to benefit.
Patrington Haven Leisure Park in Yorkshire is a 40-acre site with a range of guest facilities. Following the voltage-optimisation project carried out on this site energy consumption has been reduced by 16.9% per year with financial savings in excess of £23 000.
Crucially, as all of the aforementioned hotel and leisure companies implemented a project-led approach to the technology. Each system was designed, engineered and manufactured bespoke for each site, with installation carried out within specific parameters set by each hotel manager to minimise disruption.
Following installation, all units continue to operate and achieve savings annually within the hotels without any impact on the customer experience.
In summary, it is important for hotel managers to understand that site requirements can differ depending on a variety of factors such as site size, voltage infrastructure, voltage requirements and equipment used — to name a few.
Most voltage-optimisation specialist companies offer a full site survey that will identify the best solution for a hotel's needs prior to installation, alongside a range of bespoke products that allows users to get a tailored system, offering the most efficient and cost-saving solution.
Stuart Clegg is commercial director with Powerstar.
Related links:
Related articles: