Comfortable ways of responding to HVAC legislation
The forthcoming changes to refrigerants driven by F-Gas regulations; legislation on leak detection; and the need to achieve minimum energy standards within commercial buildings mean that change is coming to our sector. Mark Grayston of Mitsubishi Electric explores the issues behind the changes and the options available.
The AMA Research report 'Ventilation and air conditioning market — UK 2015-2019 analysis' predicts that the value of the market will exceed £1.2 billion by the end of 2019. Yet these are challenging times for the building-services industry and the HVAC sector in particular.
Not only do we have the uncertainty about what Brexit will finally look like, which affects confidence within the construction industry, there is also significant legislation that needs to be taken into account.
It is just over a year until the effects of Minimum Energy Efficiency Standards (MEES) start to come into force — restricting new leases on existing commercial buildings unless the property meets an Energy Performance Certificate (EPC) rating of 'E' or better.
The F-Gas Regulations are also starting to impact on the type of HVAC systems that can be installed or used, as equipment manufacturers look to use less refrigerant and strive for refrigerants that have a much lower global-warming potential (GWP) than existing ones.
Safety standard BS EN378 is also tightening up leak detection, especially for hotels and accommodation — so how is the building-services engineering sector meant to respond, and what are the options?
The traditional method of using a chiller system for cooling, combined with gas or some other boiler for heating, has worked well for decades and still does.
The technology is tried and tested and well understood by the industry, but combining a chiller with a boiler is not the most energy-efficient way of delivering comfort to a building and also lacks some of the more advanced control options that modern buildings and their occupants now expect.
One way of reducing emissions is by replacing the carbon-intensive gas or oil boiler with a heat pump, which can prove a very efficient way of delivering more controlled heating and cooling and minimise plant space and cost by delivering both services from one box.
Adding a heat pump can literally mean just that, with modern systems able to integrate with the chiller to ensure that the building's heating and cooling aren't wasting energy by competing with each other.
As a manufacturer, we fully entered the UK chiller market in the last two years. Not only have we purchased the skills and experience of the well-respected Climaventa line-up, but we have also launched an advanced heat-pump range of chillers which can be ordered 'off the shelf' and significantly save on plant space whilst delivering advanced control and energy efficiency.
The main challenge to chiller/boiler combinations has come from VRF (variable refrigerant flow) air conditioning, which offers more flexibility of design than chillers and can offer heat recovery to offset cooling in one area with heating in another.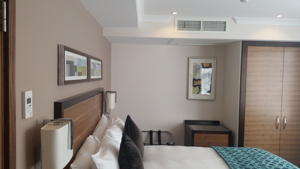 These systems have undergone significant development so that they can integrate far more easily with a BEMS, or even act as a mini-BEMS in their own right. Technological advances also mean that they are far less likely to be accused of causing draughts.
However, they do use refrigerant gas to transfer heat energy around a building, and fitting additional leak-detection equipment is fast becoming obligatory — especially for hotels and accommodation.
For building owners, this means additional cost, not only in terms of initial install but also in ongoing maintenance, as these detectors need annual recalibration. For a 200-bed hotel, that's a lot of checking and potential disruption.
The other factor with VRF systems is that manufacturers are still working out the best way to reduce the GWP of the refrigerants used whilst maintaining or even enhancing efficiency levels.
Despite what you may hear, no-one has resolved this yet, so the options for air conditioning remain fitting VRF with the additional costs of leak detection or fitting more but smaller systems that can utilise lower-GWP refrigerants.
That is why we have developed a hybrid VRF option which we believe combines the very best of VRF with the very best of chiller.
The concept is simple. The system uses refrigerant between the outdoor VRF unit and an indoor hybrid branch controller (HBC) box so that it can still provide the levels of efficiency expected from VRF.
From this HBC, the heat or cooling energy is transferred to water, which is then pumped around the building to each individual room or indoor unit. The refrigerant requirement is reduced by 30 to 50%, offering a VRF solution that meets with tough F-Gas targets.
Having been involved in the products development, I genuinely believe it offers the industry another option to delivering exceptional comfort in a way that meets existing and forthcoming legislation.
Mark Grayston is senior product manager for Mitsubishi Electric's VRF and Hybrid VRF air-conditioning systems.
Related links:
Related articles: