Delivering excellent room service
Hotels, by the very nature of their occupancy patterns, can be an energy-efficiency nightmare. Steve Browning of Trend Control Systems explains how a building energy management system (BEMS) can reduce expenditure on this resource while creating the perfect comfort conditions for guests.
Guest comfort is paramount for any hotel and, as a result, many hotel owners and managers are reluctant to take the necessary steps to reduce energy consumption in case customer satisfaction is adversely affected.
However, as utility prices have spiralled and the pressure to meet objectives based on corporate social responsibility has risen, energy management has assumed greater significance.
Some hotel chains are actively promoting their environmental credentials, and the Radisson Blu Edwardian Group is a great example. It has successfully invested in energy-saving design and technology, and committed to becoming more sustainable by undertaking significant measures to reduce energy consumption across all of its hotels with a green management structure.
Energy saving in hotels is not made any easier by their highly variable and often unpredictable occupancy profiles, which applies not only to guest rooms but also to areas such as function rooms and conference suites. When it comes to temperature it's all about getting the balance right; however, rather than being too cold, some hotels go to the other extreme and are far too hot. This can impact the quality of sleep guests achieve, and it can also affect concentration levels for those attending functions.
Moreover it is a complete waste of energy — particularly if guests start opening windows and doors to get fresh air. A properly specified, installed and maintained BEMS system will ensure that building services operate in strict accordance with demand, thereby avoiding unnecessary use of energy.
Constant monitoring performed by a BEMS can also play an important part in keeping a hotel running smoothly and efficiently. For example, the data it logs can be used to ensure effective and timely plant maintenance. Or, if the BEMS detects a plant fault it instantly transmits an alarm to in-house staff and/or an external maintenance contractor. It can also log utility meter readings, which can quickly highlight areas of over-consumption, as well providing the basis for comparing the performance of hotels within the same group.
By installing sensors and controllers in guest rooms, data is collected which enables designated hotel personnel to optimise heating and cooling and identify energy inefficiencies. Furthermore, heating, lighting and air conditioning can be adjusted depending upon whether a room is occupied, unoccupied, or unrented. All this can be achieved with negligible impact on comfort conditions.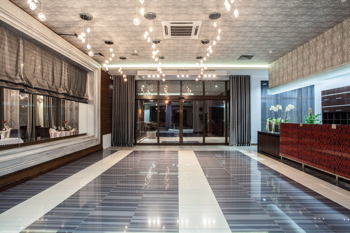 Hotels are constantly evolving environments, so any changes in building layouts and occupancy patterns must be accounted for; time clocks and setpoints configured correctly; control loops, valves, actuators and sensors regularly calibrated; and electrical equipment sited where it can't have a detrimental effect.
The benefit of a BEMS is that once a bedroom or function room is not occupied, it will automatically re-set to the desired state, thereby removing the possibility of services being left on unintentionally.
Likewise, schedule changes and setpoint adjustments are pretty straightforward, but for more advanced work, a service-level agreement with an approved maintenance contractor can prove highly beneficial by ensuring a continual loop of feedback and preventing gaps in provision, thereby maximising the energy-saving capabilities of a BEMS. Just as importantly, a service-level agreement will enable changes that could further optimise a BEMS to be scheduled as and when new technologies become available.
Changes in hotel construction continue apace, and guests require greater functionality and flexibility. The growing popularity of reception-less self-serve hotels means the future will see connected world hotel rooms that will adjust to our personal preferences on our arrival. A BEMS will enable these buildings to become fully optimised and ensure that the balance between energy savings and optimum comfort conditions is struck.
Steve Browning is marketing communications manager for EMEA at Trend Control Systems.
Related links:
Related articles: