Sontay's Smart Temperature Controller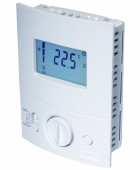 Sontay's SC-ST-x Smart Temperature Controller provides local control of an HVAC system. It communicates via the BACnet MS/TP protocol. These sensors are easy to use and bring greater efficiency to the operation of commercial buildings such as hotels and offices by providing close control of heating, cooling and ventilation demand within modern building control systems.
Depending on the chosen model, a Smart Temperature Controller operates as a proportional integral (P+I) controller, switching HVAC devices or outputs modulating 0 to 10 V control signals for modern EC fans and actuators.
Additional inputs include window contact, occupancy detectors and remote temperature sensing into the built-in control strategy.
Control signals are transmitted via the cost-efficient 2-wire RS485 bus communication on the BACnet MS/TP protocol.
These controllers give centralised supervision of the HVAC systems and pre-defined local access to the control strategy, making this range ideal for large building projects aiming for high energy efficiency and smart user interaction.
Related links:
Related articles: