Stokvis supplies bespoke HIUs for retrofit project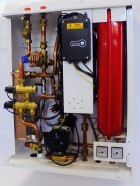 Stokvis Energy Systems has supplied 32 bespoke heat interface units to replace existing units serving separate apartments in the UNISON building on Euston Road in London. The previous HIUs were installed in small cupboards accessible from the corridors. The new units had to be suitable for underfloor heating and also have connections made from the front.
The units were specified by GPJ Consulting. Its founder Gareth Jones, commented, 'We have used Stokvis Energy Systems for a lot of projects over the years and always get good service, including design assistance where required.
'For this project we had to have bespoke HIUs produced to fit the service cupboards. Stokvis came up with a good solution. Although there were some technical issues early on, they responded well in dealing with the problem.'
Related links:
Related articles: