Improving control can start with a single step
Although updating a building management system is a valuable investment for energy efficiency, it's not always feasible to update an entire BMS at once. Ian Ellis explains that today's controls technologies make it possible to focus on better control for a single function, for example the fan coils or VAV units, in a building.
We are drawing ever closer to the Minimum Energy Efficiency Standard (MEES), which takes effect from 1st April 2018. The MEES means all commercial leases will need to achieve a minimum Energy Performance Certificate (EPC) rating of 'E' before they can be let to new occupiers or renew an existing tenancy.
It's estimated that around a fifth of non-residential buildings are currently below the threshold and will need improving. The fine for those in breach of the standards for less than three months will be up to £5,000 or up to 10% of the rateable value of the property – whichever is greater. Go beyond three months and this will rise to £10,000 or 20% of the rateable value of the property, up to a maximum of £150,000.
This may spark a late surge in building management systems (BMS) being installed if they haven't been already, or new upgrades on an existing BMS. A BMS is commonly recognised as a crucial factor in the performance of a building; achieving this through its ability to control and monitor the plant and services in operation.
The last few years have seen a huge growth in the number of building services products using open communication protocols such as BACnet, LON, KNX, Modbus, M-Bus and others — including chillers, pumps and variable-speed drives, as well as some fire and security systems. This has made integration more straightforward and helped reduce the cost and complexity of such projects. It also allows for more 'low-level' integrations at a local level to help reduce complexity in the system.
However, there may be a misconception in some quarters that when it comes to updating your BMS it is only possible if you are updating the whole system. This is not always feasible, both from a financial perspective and a practical one. The good news is that it's not always necessary either. A building can be upgraded a section at a time (say a floor) and the added energy savings made can fund further upgrades as and when required in the future.
Better control for a single function
Today's controls technologies make it possible to focus on better control for a single function. As long as the individual function you wish to upgrade, such as the fan coils or VAV controls, are Native BACnet they will be ready to use straight out of the box as this guarantees they are fully compatible with any system using BACNet. BACnet is an open communication standard for building automation used worldwide. Independent testing and certification authorities guarantee the reliability of BACnet devices.
DXR controllers from Siemens Building Technologies offer energy efficient control of terminal units including fan coils and VAV. They offer ease of installation and operation, utilising the truly open BACnet protocol. With its high level of compatibility and continuous development, the DXR range protects your investment across the entire lifecycle of your building, so that changes, expansions or upgrades can be made gradually.
The system responds to the actual demand in the room delivering only the amount of energy needed. Energy saving functions get room users actively involved in the process. The Green Leaf symbol alerts users when unnecessary energy consumption occurs so they can take corrective action leading to energy savings of up to 25%. The system can be expanded step by step, giving you the ability to add new features when you need them.
Flexibility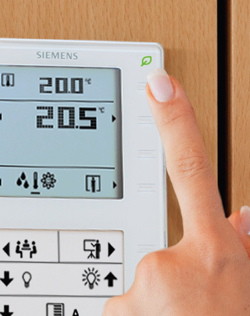 For commercial building tenants in the 21st century flexibility is key and a building with a scalable management system is much easier to lease or sell as the occupants will benefit from having the freedom to design the space any way they wish. The basic configuration can be limited to a minimal installation, which can be easily expanded by tenants based on their requirements – from the room layout to individual workplace lighting.
When a reorganisation becomes necessary or when the room usage or the tenant changes, the unique segment concept of a system like the DXR range will lower your costs. Floors in the building are subdivided into room segments and these, in turn, are flexibly combined into rooms. When the room layout changes, you can quickly adjust the segment grouping.
The room operator units also offer flexible functionality. Scenes that trigger multiple actions in the room can be programmed for different work situations – e.g. normal operation, break, meeting or presentation – and modified if needed.
No panic
Building management systems that provide users with unique flexibility, scalability, simplicity and openness characteristic features will allow building owners and facilities managers to have ultimate control and supervision of HVAC and other building services. Most importantly it can provide a comfortable working environment for building occupants, ensure compliance with the upcoming Minimum Energy Performance Standard and contribute significantly to reducing energy usage, leading to a smaller carbon footprint.
By choosing technology that is BACNet compatible building managers can avoid any panic in the future when their BMS needs upgrading as they will have the flexibility to update specific areas without affecting other areas of the building.
Controls technology applied like this can be a 'quick win' for both energy saving and greater occupant comfort. And savings made in this first step can be used to invest in further application of controls in a long-term approach to updating the BMS.
Ian Ellis is Head of Product Management and Marketing at Siemens Building Technologies
Related links:
Related articles: