Greener on the other side
Both landlords and policy makers are having to respond to a growing public consciousness of the property sector's environmental impact, resulting in a slew of regulation.
Over the next ten years, demands for energy efficiency will rise dramatically, with minimum standards set at an increasingly high bar and landlords risking huge fines if found non-compliant.
The task facing landlords is not a simple one and enhancing a building's sustainability means weighing up a number of factors against one another. So, what are the main challenges when it comes to improving a building's sustainability, and how can landlords meet these growing demands from the Government and tenants?
The main difficulty landlords face when embarking on this mission is negotiating the cost. Whether it be a simple renovation, such as replacing a common area lighting installation with new LED technology, or a more comprehensive and expensive refurbishment like replacing a property's building energy management system (BEMS), almost all measures designed to improve sustainability performance require capital expenditure. Even if these enhancements benefit the tenant in the long-term, a lease may not require tenants to pay for improvements, which prevents such renovations from being funded through the service charge. This often results in the landlord having to pay for these works entirely themselves, or not complete them at all.
With the growing trend of short-term leases and flexible working, there is increasingly little commercial incentive for tenants to invest in works with payback periods that exceed the term of their lease. Although the payback periods for sustainability projects can vary from one to seven years, the usual length of a commercial office lease will mean that a tenant contributing to these works will feel no benefit whatsoever. Moreover, these improvements may not always add to the capital value of the property, providing the landlord with no tangible material benefit for their funding.
With these tricky calculations in mind, cash-conscious landlords often find it difficult to achieve the right balance between the cost of a sustainability improvement and the intended benefit. Ultimately, to find this balance, active communication lines must be facilitated between tenant, landlord and property managers. Then, realistic sustainability targets for all concerned must be established – taking occupier requirements, capital expenditure, service charge confines and the physical limits of the building into account.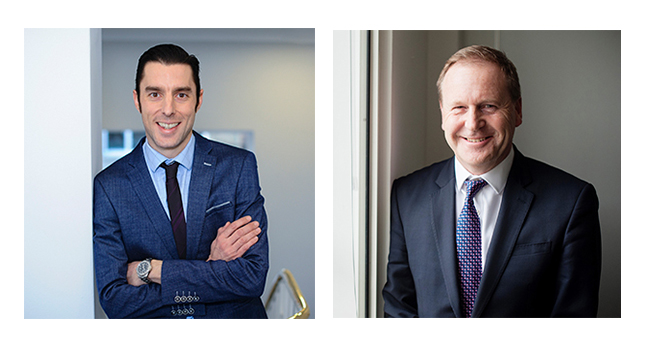 Stuart Funiciello                                                 Stuart Howell                    
Where tenants are concerned, their demands must be carefully considered alongside the building's design, heritage, operation and overall look and feel. For example, advances in beneficial technology such as variable speed drives (equipment that reduces energy consumption by minimising the frequency that motors operate) may not be understood by building occupiers when compared to a lighting replacement project, where the end result is far more tangible to the end-user. Occupier sustainability demands must be clearly outlined and measured against accurate data that highlights the cost versus payback projections of these demands.
Although well-documented, sustainable procurement is not necessarily the driving force behind agreeing sustainable practices between landlords and occupiers. Nonetheless, these practices are key to ensuring natural resources remain accessible for future generations. Whilst the main advantages of adopting sustainable practices are well understood throughout the property industry – including a reduction in energy consumption and utility costs, with the overall aim of reducing operating costs for the occupier – we do not see the same for procurement. Ultimately, sustainable practices must begin to take sustainable procurement into account more, as well as the implementing of local level improvements.
Unfortunately, all buildings are not made equal. In comparison to newer builds, older commercial properties are far less likely to be fitted with inherent sustainability features that meet the requirements of newly introduced regulation, such as the Minimum Energy Efficient Standards (MEES), BREEAM and Well Building Standards, coveted by developers and owners. Yet, with the Government only set to increase and intensify building regulations (with proposals requiring landlords to hit an EPC rating of at least grade B by 2030 for example) these cannot be simply ignored.
Yet, all too often owners and occupiers alike do not understand or appreciate their legal responsibilities when it comes to this complicated legislation. They generally adopt the "if it isn't broken, we do not need to fix it" approach, leaving themselves vulnerable to non-compliance fines and, in the worst cases, an inability to purchase, lease or dispose of a property.
Achieving sustainability is a two-fold challenge that needs investment and better guidance, for both the construction and property sector, and its customers.
Funding needs to be made readily available to businesses, owners and occupiers through investment capital from the Government, banks and institutional investors. This investment should be directly linked to developers and landlords hitting their sustainability goals, which we have recently seen through investment secured by Great Portland Estates (GPE) to fund their sustainable development goals, with their interest rate linked directly to hitting certain sustainability targets. Capital investment for sustainable development is becoming easier to secure, but we need to see further collaboration between investors and developers if we hope to meet sustainable goals.
Finally, the Government must provide better guidance on its incoming legislation. With a better understanding of their legal responsibility, owners and occupiers can take a more proactive approach; allowing them to meet the evolving needs of occupiers and an increasingly sustainability conscious generation.
Stuart Howell is managing partner and head of Property and Asset Management; Stuart Funiciello is director and head of Mechanical and Electrical Consultancy at Hartnell Taylor Cook
Main Picture credit: Shutterstock.com/Asiastock
Related links:
Related articles: