Refurbishment for efficiency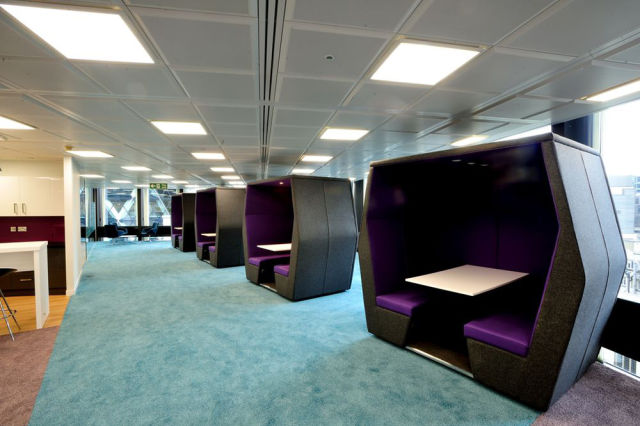 Commercial property expert Jackie Cocking considers how the use of office space and the working environment is changing.
Do you remember when an office was just a place of work? When offices had typing pools, the largest private offices were occupied by the most senior executives, drab grey or olive-green filing cabinets were popular, brown vinyl chairs and brown carpets were. If you're too young to recall those times, just watch an episode of Mad Men.
Today's offices, which can cost up to £120 per sq ft (admittedly in London's Mayfair), have to meet objectives which address contemporary issues, such as:
• The office has to make a 'brand statement'
• It has a role in recruiting and attracting millennials
• Multifunctional space which encourage flexi and collaborative working is key
• Personal HVAC and lighting zones are ideal
• .... the list is endless.
To meet these disparate requirements, the issue for all property professionals is how can we optimise the space in terms of occupational and financial efficiency. Today, the rule of thumb is that 100 employees no longer means 100 desks. In addition, desks have got smaller and planners now have to work to a 1:8 ratio, rather than 1:10 per square meter grid.
Changing work practices (more flexible, remote and off-site working), have led to hot-desking and desk sharing becoming the norm, allowing organisations to optimise their second most expensive asset – its office space.
Other notable changes include:
• Underutilized meeting rooms appear to have been replaced by pods for small groups or teams which needed a space for short impromptu meetings
• Reception areas are no longer just for visitors, but their 'comfy' seats also accommodate laptop-bearing employees who want their own temporary 'thinking space'
• Coffee bars are not an office affectation just for the creative industries, but an essential to dissuade employees from leaving the building for a quick barista-prepared drink and they are also a valuable 'touch down' space for 1-2-1 off-site team members.
Managing space to optimise efficiency and productivity is now big business. Major corporations are investing heavily in creating working environments which are convivial and relaxed but, unpinning this apparently avuncular altruism is a burning desire to appease shareholders – by being innovative, efficient, productive trailblazers.
Some major corporations have pushed their workplace 'brand statement' to extreme. Take Google for example (renowned for its unusual and extraordinary workspace designs - an integral part of its motivation strategy). The company deliberately set out to create cool offices which are "the happiest and most productive workplaces in the world." Its offices have included:
• An indoor putting-green and authentic jungle (Dublin)
• Beach volleyball and climbing walls (California)
• An authentic New York apartment styled conference room
• A virtual library with secret, revolving bookcases leading to other departments (New York).
Apparently, their New York headquarters is designed to reflect the " ... energy and diversity of the city itself. No part of the office is more than 150 feet from food - whether it's a restaurant, coffee lounge or cafeteria, employees are encouraged to snack more, chat more and, most importantly, inspire more."
I am currently involved in a CAT A refurbishment, of a prestigious Mayfair office building and, one of the conversations with the Asset Manager has been about the number and speed of lifts – in a nutshell, more and faster.
So imagine my surprise when I read about Google trying to encourage more 'casual collisions' by featuring a number of notoriously slow elevators in its New York office, to force employees to use the stairs – the theory being that people from different departments are more likely to engage in unexpected conversations and generate new, inspiring ideas if they are walking to a destination, as opposed to travelling in silence in an ascending or descending 'speed box'..
Trying to incorporate all of these features into an office space requires a balance between turning the space into a brand statement/a talent attraction tool and boosting employees' creativity, productivity, satisfaction and their wellbeing.
Over the last decade, most companies have moved to open office strategies and, whilst these airy busy environments look cool, organizational psychologists have found that open-office layouts can impact concentration levels and increase stress.
We are also moving away from functional/departmental/hierarchical space planning (eg. a rigid seating plan which allows the boss to survey/manage the team), to more individual, task-centric space planning, based on the principle that we require different things of our space at different times of the day.
For example:
• A quiet zone for reflective individual work such as research and report writing
• An area for collaborative work - from informal 1-2-1 meetings, to audio conferencing
• A space for phone calls or confidential business chats
• More casual area with couches and quiet zones for reading, writing, or deep focus
• Larger meeting areas to accommodate big gatherings/meetings.
Ditching obvious spatial hierarchies (such as corner offices), behavioural organisational psychologists believe encourages people to share openly and contribute fully. Organising people by function or team, instead of by status, therefore creates far healthier and contemporary communities and apparently also increases productivity.
However, efficiency in the workplace is not just about employees. A building's performance, particularly as climate concerns grow, has to be part of the overall strategy, especially given the pressure on owners to 'green' their buildings.
Many owners now look beyond their four walls and consider the impact their asset has on the wider environment. They use technology to track, monitor and manage a building's energy consumption, whilst building intelligence allows the needs of users on a part of a floor, a whole floor or the entire building to be met – in terms of controlling lighting, security, heating, ventilation, air conditioning and air quality.
Occupiers do have an increasing responsibility for how the systems are deployed, therefore it makes no sense to occupy a building which has secured an 'excellent' BREAM sustainability rating, if the available intelligent systems are not deployed.
Green Leases, where the landlord and occupier work collaboratively to meet sustainable goals (such as improving energy efficiency, reducing waste and managing water usage), are likely to come more to the fore.
While Green Leases can provide obvious benefits for the landlord in helping to meet legislative compliance obligations, they also benefit occupiers' financially - by reducing energy consumption. However, they do not necessarily present a green panacea as tenants have to be wary of restrictions which can impact their business.
Some tenants have found that Green Leases restrict their operational hours (to help reduce energy consumption), they have to now provide 24-hours' notice if HVAC services are required outside normal office hours and they can only conduct improvement works if they adhered to a building's agreed sustainability policies.
Optimising the efficiency and productivity in the workplace have perhaps never been under so much scrutiny. The pressures on owners and occupiers are huge and growing (be it the result of increased occupational costs, greater focus on the workplace as a brand statement and escalating 'green' demands – from more efficient use of finite resources, to minimising the impact of the workplace and building have on the environment). But, champions to fight their corner do exist and have become an integral part of the solution.
Jackie Cocking is a building consultant at commercial property consultancy Matthews & Goodman LLP
Related links:
Related articles: