Balance is now what's expected for heating systems

Peter Reynolds explains why hydraulic balancing offers benefits for heating system efficiency, and why he welcomes government policy that it should be 'expected practice' in domestic installations.
Ensuring optimal distribution of water in a heating system has been shown by independent studies to offer savings of up to 27% of total heating costs. This is known as hydraulic balancing. In November 2017, the Department for Business Energy and Industrial Strategy (BEIS) recognised hydraulic balancing as "expected practice" in connection with installation or replacement of a domestic heating system.
Hydraulic balancing to achieve better-controlled heating and cooling systems is an established technique. However, it has traditionally been deployed more commonly in larger commercial and industrial type applications due to the time and expertise involved with undertaking it competently.
There are many reasons to do this, as correct balancing means that the distribution of water in a building's heating or cooling system attains the intended indoor climate, as well as optimum energy efficiency. When a heating system is balanced, all radiators will equally meet the desired flowrates and therefore the problem with a low temperature at the furthest radiators is eradicated. Additionally, once the radiators are correctly balanced, they do not require any additional balancing, providing there are no changes to the heating system.
However, the story in the case of home heating systems has up until now been different as the majority of these have not been hydraulically balanced, which often led to an uneven distribution of heating. Radiators installed at remote locations to the pump are insufficiently supplied, whereas radiators nearer the pump are oversupplied, causing occupant discomfort. The solutions traditionally sought to overcome these issues included installing a larger pump or turning up the boiler heating setting. However, these solutions waste a lot of energy; increase heating costs; raise the potential for noise nuisance; and reduce the ambient comfort levels for occupants.
Up until recently, hydraulic balancing could only be undertaken within a domestic arena in limited ways:
• Taking a "gut feel" approach using the radiators and their lockshield valves
• Referencing a table look-up and adjustment on the radiator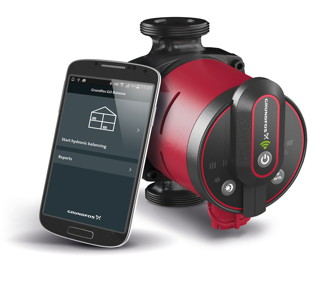 • Use of FGA thermocouples to measure temperature differentials
• Adopting the advanced commercial building services type solutions with detailed heat load calculations and specialised equipment.
However, the industry has seen recent breakthroughs with the emergence of automated methods to deliver hydraulic balancing more accurately and faster than conventional options. These have the potential to make a real difference. Automated solutions are being commercialised by key boiler and circulator pump manufacturers in the UK, which makes the process much easier and quicker to achieve – so there really isn't an excuse not to offer this valuable service.
What's more, BEIS has announced plans to drive up standards for domestic heating systems at point of installation or replacement from April 2018. Alongside access to a range of installed energy saving measures, installers and consumers are set to be offered advice on a crucial element of heating system performance – the flow of water across each radiator (heat emitter) within the central heating system. Replacing a boiler or heating system component represents a key opportunity to check that the entire system is working optimally.
Hydraulic balancing can be delivered through a variety of different methods which vary according to cost and labour intensiveness. However, if undertaken correctly, all offer energy saving potential. The work involved can be delivered by any competent 'Gas Safe' technician at the same time as replacement of a boiler or other heating system component.
In the coming months, Grundfos will be working closely with Government Departments and the heating industry to ensure that this expected practice is instilled within relevant guides and industry commissioning checklists to ensure that consumers receive the service that means these savings are possible.
Peter Reynolds is managing director of Grundfos UK.
Related links:
Related articles: