The beauty of offsite utility

Andrew Yates explains the growing popularity of offsite construction of utility cupboards as the pressure to build quickly and to high standards grows.
With a projected 650,000 new homes planned in London and a further 250,000 planned in outer suburbs by 2029, the move to modular build has never been so important. All major cities are planning a large growth on multi-occupancy homes, from houses to high-rise towers.
Many national developers are looking at modular build to speed up the delivery of these new schemes. The concerns about reducing workforce, together with the need to deliver quickly, means offsite modular build is top of the agenda.
One of the areas of growth within modular build is the prefabricated utility cupboard. This area is where the risk and complexity of the mechanical, electrical and plumbing (MEP) services can cause delays because it can create potential risk to programme surety, not to mention the additional costs.
Offsite prefabricated cupboards are assembled in a manufacturing environment designed to withstand transportation, while the latest building information modelling (BIM) design software can ensure the products can be lighter, smaller, highly consistent and efficient to assemble.
Reduced risk
By manufacturing prefabricated cupboards offsite, the risk of conflicting tradespeople causing accidental breakage at construction stage is eliminated, and as a result there is usually less wastage in building materials that may have otherwise been broken during the installation process.
Not only that, offsite prefabricated cupboards also lead to a reduction in packaging waste on site, as boxes and packing materials are a major concern because they are both expensive to remove and wasteful in general. Early design engagement also opens up the opportunity to make the cupboards smaller, thus giving extra living space in the kitchen or living room.
Offsite, prefabrication is nothing new: it has a reputation for being more expensive than traditional build. However, do we really investigate the real savings offsite brings?
There are a number of advantages to prefabrication:
• Time – offsite methods mean less time on site and guaranteed programme surety as well as improved levels of productivity, with trades not having to wait to complete works. And reduced construction time means properties are let quicker.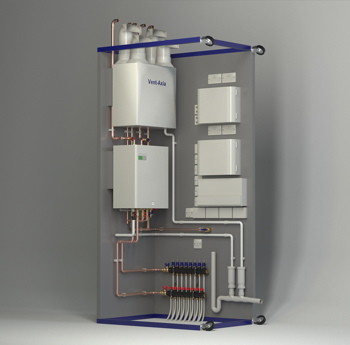 • Cost - a question that occurs at every meeting. With prefabricated cupboards, cost certainty is assured, reducing risks in such areas as aborted defect visits and prelims. Larger sites can incur £100K a week prelim, so across six weeks that is a significant saving. With prefabrication, clients only pay for the materials used.
• Quality – it is now widely recognised that offsite methods achieve much higher levels of quality and consistency compared to on-site work. This also limits the risk of damage from follow-on trades.
• Health and safety - a study by Loughborough University in 2004 concluded that manufacturing is six times safer than construction. Fewer site personnel are required, which reduces health and safety risks.
• Sustainability - offsite manufacture results in less waste. A prefabricated cupboard arrives on site with far less packaging than traditional building products, meaning less supervision for deliveries and fewer skips. Less work on site means less noise, less dust and less pollution, as well as less storage. It also reduces the risk of damage, theft and loss.
Count the cost correctly
So, what are the perceived negatives of prefabricated utility cupboards? Cost seems to be an issue when the price of the cupboard is compared to a traditionally built cupboard. However, when considering costs, they must be accounted for to get a true figure, including design, reduced supervision, less waste transfer to skips, minimised site management in regards to coordination of M&E, vastly reduced main contractor project manager snagging and de-snagging.
If each of these build stages is reduced by one week, it is possible to save six weeks on a scheme. These saving will far outweigh any additional costs of the offsite build.
Andrew Yates is national specification manager at Inta
Related links:
Related articles: