Optimal Solutions for HVAC engineers
LG Electronics Air Conditioning and Energy Solutions division offers several engineering tools focused on HVAC, during the overall life-cycle of a building, relating to three categories.
1) Draft Energy Estimation and Energy Modelling (LATS Energy)
2) Model selection and Design (LATS HVAC/LATS Revit)
3) Installation Environment Simulation (CFD and Noise Analysis)
Among them the LG LATS program series has been developed to offer the best and most optimised tool for LG HVAC systems providing LG customers with a faster, easier and a more accurate way in everyday duties of modelling selection, draft energy estimation, designing and much more.
From planning toservice and maintenance and then to de-construction, an architectural project goes along many stages from the beginning to the end of its life-cycle. Among those stages, various engineering tools are applied to solve the diverse issues happening in each stage. Due to the usage of such tools, buildings are effectively designed, built, supervised and maintained throughout the life-cycle.
The LATS Energy program estimates the draft energy usage and analyses the life-cycle cost of LG Multi V VRF models during the early stage of a project, by simply selecting information such as the project's region, schedule and applied products. The results can be easily seen.
LATS HVAC is an integrated model selection program of LG's HVAC products enabling an accurate and quick selection on the best models suitable to each site. In addition to model selection, an indication on refrigerant piping diameter and additional refrigerant charge is possible, along with creation of system reports.
LATS CAD is LG's own designed program aligned with AutoCad.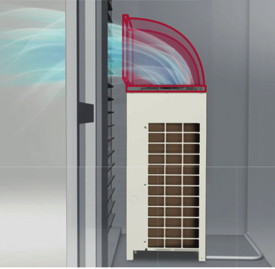 Compared with conventional AutoCad, LATS CAD enables a much faster and accurate design of LG HVAC products. Not only design the program also offers installation review (estimation on refrigerant piping diameter and additional refrigerant, calculating result by piping lengths) and minimises possible issues of installation by estimation.
LATS Revit has been developed to make 3D designing of LG HVAC products easier than the conventional programs. It enables engineers to check 3D images from designing stage and prevents possible issues at installation stage.
By running a CFD analysis and/or a computer-aided acoustic design software simulation program before construction on a large project, engineers can see possible site issues and predict the expected noise level of installation sites and simulate the effects to neighbouring buildings to find optimal solutions to ensure that malfunctions on site do not occur after construction.
It is therefore always important to involve the manufacture as soon as possible, as not only will they be the expert on their products, they will have the right engineering tools available to them and for the engineers.
partner.lge.com/uk
Follow us @LGUK_B2B
Related links:
Related articles: