The flexible future
Building design influences human behaviour. But business and working trends also have an impact on the requirements for buildings, and the office is no exception. MBS reports.
The way the average office worker conducts their day-to-day activity is heavily influenced by social and economic trends, as well as technology. One of the most significant markers of today's property market is the rise of the 'Office as a service'. This term refers to a higher level of serviced office that acts partly as incubator, partly as entrepreneurial community gathering point.
Property specialists Cushman & Wakefield have identified the 'rise of the flexible workplace' as a driving factor around property requirements in central London. Its report 'Coworking in 2018:The flexible workplace evolves'v(published in May 2018) points out that 21% of office space in 2017 was taken by flexible workplace providers – with regional cities following that trend.
The flexible office offers a range of benefits such as hot desking; breakout areas; and facilities such as cafés. Flexible space can also be priced based on number of workspaces or even by the hour. Often a shared space is not allocated, and there can also be provision of support such as mentoring or business clubs and events.
Cushman & Wakefield figures show that between 2012 to 2016 the flexible workplace sector leased a total of 4.5 million sq feet in London in 210 transactions. This compares to a total of just 1.2 million sq feet in the preceding five years. In 2017, 2.5 million square feet were let to the sector.
One of the main drivers of this shift is a growth of start-ups and small to medium enterprises (SMEs). As we move to a selfemployed economy, the need for cheap and ready-to-use office space is key for those who want to take the next step from working from the kitchen table. The Association of Independent Professionals and the Selfemployed (IPSE) states that there are now 4.7 million self-employed people in the UK, up 25% since 2009, contributing £271 billion to the economy in 2017. IPSE's figures show that the 'solo selfemployed' (working on their own with no employees) constitute 14% of the workforce.
British Council for Offices (BCO) also highlights the changing face of work as the key to office space demands: "Modern office development increasingly involves providing more than 'somewhere to work'. Changes in society, where rising generations have different requirements and expectations of the workplace, are combining with technological advances to bring about a revolution in the way office space is used. The rise of operators like the Office Group and WeWork underlines the strength of demand for new ways to occupyoffice space and this in turn is being fuelled by employers' desire for flexibility and the need toattract and retain the best talent."
It almost goes without saying that technology has enabled greater freedom for office workers who used to be desk-bound. Access to smartphones, laptops and other mobile devices makes the notion of having to sit at one desk a thing of the past.
And this is why there is a growing movement towards large corporates also renting flexible space for a portion of its workers. Cushman & Wakefield predict that demand from larger operators will 'accelerate in the future'.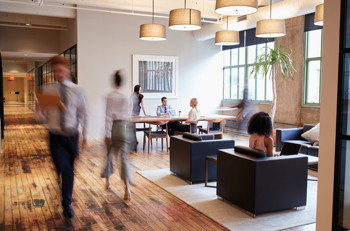 On a more prosaic note, changes in tax law may also be lending a push to the new style of office. IFRS16 is an accounting standard set to come into force in January 2019. It alters the approach that taxation will take to leases, depending on what is included in a contract. While the new standard will not directly affect landlords, it may change the behaviour of their customers who may feel that there is a tax advantage to moving to shorter, more flexible workplace-type leases. The impact of a change in taxation practice on business behaviours should not be underestimated.
What does all this mean for building services? Firstly, with the concept of the office as a service, rather than a space, comes new expectations of comfort and productivity. This means requirements for ventilation, cooling and heating will be high. And if the space is flexible, then the hvac will have to be too. The ability to change an area from a café to a breakout space or to a private meeting room for hire is more likely – change will be the new norm for office spaces.
With unpredictable work patterns (goodbye, nine-to-five) comes greater pressure on the building management system to track peak requirements and to squeeze as much energy efficiency out of the hvac and lighting systems as well. There may also be a growing requirement for personalised controls of small spaces – theoretically possible, but challenging to design and install. Maintenance during down-times will also have to be well planned.
One other trend that could result in refurbishment and redesign work for the building services sector is that owners of other types of space (retail, cafés, restaurants) are finding areas of their existing properties that can be converted to working spaces.
Cushman & Wakefield cites examples such as retailer Heals which has opened a café and coworking space in its Tottenham Court Road store. Central Working (flexible office specialists) work in partnership with the Zetter Hotel to offer a flexible workspace during the day, that reverts to bar and restaurant in the evening. As the Cushman & Wakefield report states: "Any brick-and-mortar business that is vacant for a period during the day could be utilised for flexible working. Not only could this boost struggling businesses with increasing overheads, but it also provides occupiers with a greater choice of locations."
The rise of the small business and shifting habits of corporates are a powerful combination that is having an impact on how buildings are used – and viewed as potential assets.
For those with the skills to make spaces that are comfortable, welcoming and economic to run, the flexible office is an opportunity in the making.
Related articles: