Modular learning
Craig Riley explains why modular buildings are a popular solution for today's education market, and how the prefabricated buildings provide usable, sustainable classrooms.
The modular classroom is now a familiar sight in schools and colleges across the UK. The rise of modular buildings in the educational sector is a solution that's offering cost savings, practical advantages and high-quality results for schools.
Schools, colleges and universities are always at the mercy of the economy, so the current climate of austerity has had a noticeable impact on the education sector and its ability to invest in construction projects.
It comes as no surprise, then, that within education, the use of modular buildings is on the rise. With building contractors able to deliver modular projects in half the time, and with half the budget, of conventional school buildings, it's a no-brainer for this cash-strapped sector to opt for cheaper, offsite construction that has the advantage of being far less disruptive to the school day.
Funding issues are just one side of the story. Modular classrooms are providing a practical solution to an evergrowing issue for schools: how to create more teaching space for extra pupils, without breaking the budget.
Of course, when it comes to extra teaching space, modular classrooms aren't the only option for schools. Portable cabin-style classrooms can also be delivered, fully built, to the premises and installed with minimal disruption. Or schools wanting a more permanent result may choose a traditional, bricks-and-mortar extension. But clients in the education sector would do well to consider the advantages of modular classrooms over both of these alternatives.
In contrast with a full-on extension, schools opting for modular classrooms can often sidestep the need to apply for planning permission, depending on their size and proposed location.
Time sensitive
Architects are not required, either; instead, modular construction experts can offer bespoke design services at a fraction of the cost. And the time taken to complete a modular construction project is a matter of weeks, not months or years, so it's possible to plan for the installation to take place in the school holidays.
Prefabricated classrooms may sound like a temporary answer to a long-term problem, but modern modular construction offers a sustainable solution for clients in the education sector in need of  extra classroom space.
The SIPs ("structural insulated panels") used to construct modern modular classrooms are made from BBA-approved OSB3 and insulating foam to provide durability, strength and a high level of thermal performance. Interior walls are made, not from plasterboard but from an impact-resistant alternative that will support weights of up to 50kg from a single screw. Combined with A-rated windows and doors made from powder-coated aluminium, strong cedar cladding and LED lighting, modular buildings can offer unrivalled durability and energy efficiency, making for a comfortable learning environment that's economical to run, with minimal maintenance required.
Security can be a worry for clients considering outdoor classrooms, especially if they will be used to store high-value items such as musical instruments. Modular school buildings are fully compliant with the standards required by British insurance companies, with all doors featuring espagnolette multi-point locking systems as standard, and all windows featuring key-operated locks.
Design options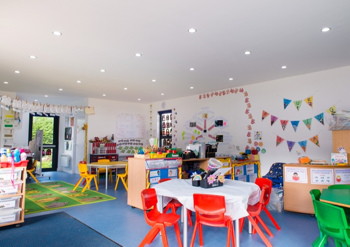 Aesthetically, modular classrooms can be designed to fit in with the existing architecture of the school. Western Red Cedar cladding is a popular and versatile choice of finish for many educational settings, and slates for pitched roofs can be chosen to match the look and feel of the setting. Flexible design options mean that modular buildings can fit into awkward and irregular spaces, making the most of the space available, and in particularly challenging locations, the foundation systems used can enable construction when other projects may be prohibited; for example, if there is a Tree Preservation Order in place.
Modular classrooms are a genuinely practical and longlasting option for schools, and buildings constructed in this way, with high-quality building materials and heavy-duty foundations can be expected to last for a minimum of 50 years. In fact, because they are manufactured using a demountable system, modular classrooms can even be deconstructed and moved elsewhere – a boon for schools that may relocate or expand their premises in future.
Pre-school and primary education settings are the first to be hit by the impact of the population boom, and extra classroom space is already an issue for these settings.
Nursery and beyond
In nurseries and other early years environments, space is a particularly pressing problem when taking on extra children, due to the low adult-to-child ratio requirements for the under-4s. Schools and nurseries are also likely to have particular specifications that modular buildings can deliver, such as ensuite toilet facilities, buggy and wheelchair-accessible entrances  nd easy access to outdoor areas.
A pre-school classroom at Roxton Lower School in Bedfordshire illustrates the possibilities that modular construction can offer in early years settings. A teaching space that is entirely self-contained and separate from the rest of the school, it offers access via bi-folding doors to an adjoining outdoor play area.
Similarly, a reception classroom at Worstead Primary School in Norfolk has been installed in a corner of the playground to accommodate pupils who had previously been using the school hall as a classroom. It features step-free access and en-suite accessible toilet facilities with low sinks suitable for use by young children.
At secondary education level, students learn a wider range of specialist subjects, many of which require bespoke learning environments. Science labs, drama studios and music practice rooms can all be designed and purpose-built using modular construction.
At this level, there is also a greater need for self-contained rooms to cater for private meetings. Modular school buildings are ideally suited to this purpose, offering privacy where needed. They can also offer a high level of flexibility, so they can be used for different functions at different times of day. Planned and executed carefully, modular builds can even be hired out to local groups to generate extra revenue.
The modular, prefabricated approach offers a practical solution for the challenges of today's education sector.
Craig Riley is managing director of Green Modular
Related links:
Related articles: