HOLY HEAT
Specifiers face a series of unique challenges when it comes to upgrading heating systems in historic buildings such as churches. Steven Evans highlights what needs to be considered to ensure projects go smoothly.
Churches can be difficult places to heat effectively. As typically old and tall buildings, they often have poor insulation and a largeair volume to floor area ratio that makes conventional spaceheating systems rarely practical.
There are approximately 37,500 church buildings in the UK and millions of churchgoers who attend a weekly service. The challenge for building managers is to balance encouraging use of the building with keeping costs down through energy efficiency.
In fact, total energy costs across the Church of England's entire estate is over a hundred million pounds per year. The Church is also under pressure to boost its environmental performance and has set up an initiative that aims to reduce greenhouse gas emissions 42% by 2020. It is estimated that the current institutional footprint of the Church of England is around one third of a million tonnes of carbon dioxide for its churches, cathedrals and offices.
The first step in heating system design for churches is to conduct a detailed heating survey of the building that will assess current energy consumption and areas of waste.
The survey should also detail special features of the building that could be impacted by renovation works, such as wall paintings, organs and lead roofs. The objective is to define the current and planned use of the building and it is recommended that current and potential users are consulted about their needs.
Old stone churches and modern places of worship often share the same problems when it comes to heating – high walls, high roofs, and in most cases, single-glazed stained-glass windows.
Sunday service
Building usage patterns will need to be assessed because although some churches might only need heating at busy times of the week such as Sundays others will require a low level of background heating all the time. Each church will have different needs but a good guiding principle is to try to warm the people, not the building.
An averagely sized church could be well in excess of 400 m², and it is estimated that usage could be about 10 times higher than the average residential household, depending on building usage. In terms of the price per kWh, this equates to an electricity bill of around £2,860 on average, based on a usage of 26,000 kWh.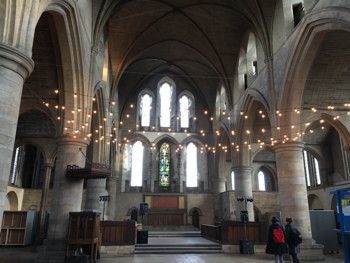 Although the nature of many church buildings means that they cannot implement some of the energy-saving measures that are available to more modern buildings, energy efficiency can be achieved by making sure that the right heating solutions are selected.
Fortunately, comparing the energy efficiency of boilers is relatively straightforward thanks to the Energy Labelling Directive. The legislation states that space and combi heaters of up to 70kW require an energy label with a rating ranging from A++ to G. When used alongside a manufacturer's energy efficiency data, these labels can guide specifiers towards the cleanest, greenest solutions.
For any heating system to work effectively it must be sized correctly according to the predicted demand of the building to ensure efficiency operation. When replacing an older boiler, it should never be assumed that like-for-like replacement in terms of boiler capacity offers the best solution.
It has long been recognised that there has been a tendency to oversize boilers, which often comes about due to a natural desire to err on the side of caution to avoid complaints from users about under-performing systems. Boilers have often been specified without considering the building's heat gains from people, lighting and equipment.
Saving grace
The thermal requirements of churches are very different from those of almost all other class of building, however, modern heating systems now provide a range of solutions that provide minimal impact on a buildings' aesthetics.
For example, Potterton Commercial's Sirius boilers are so compact that they can be easily concealed within a vestry by using WH (wall hung) cascade frames. This solution can be combined with discreet radiators strategically placed around the building and under-pew heaters for extra comfort and warmth.
Each church will have heating needs that are specific to the building and its day to day use. The key consideration for building managers is to arrive at a solution that overcomes the specific challenges of heating a church, fits in with the surroundings and provides maximum comfort at a reasonable cost
Steven Evans is sales director at Potterton Commercial
Related links:
Related articles: