The future office is here
On arrival at their workplace, employees of the Farringdon-based design company Moo are greeted with an Instagram-worthy foyer. It sets the tone for the rest of the office—a modern and welcoming place to work.
Glass-panelled meeting rooms are bookable through a digital system and multiple open plan spaces create a collaborative environment which is ideal for flexible working.
This type of office is becoming the norm for many occupants, and it is impacting on HVAC design. Over the last 30 years, building services systems have evolved with changes in technology, but also driven by the different ways in which companies and people use spaces and technology. What's increasingly clear is that occupant productivity and wellbeing are now major factors for a range of clients. These in turn influence decisions about the buildings they occupy.
Office design and build specialist, Peldon Rose was involved in the fit-out, mechanical and electrical design and installation of Moo's offices. Alan Jamieson, M&E director says: "The main concerns from occupants relate to heating, air quality and everything that is in the M&E forum. Lighting is really important now too. It is important to get the lighting levels right not just for people sitting at a traditional desk, but for when they are sitting at an alternative situation, so that they can still function."
This focus on wellbeing and productivity is reflected by the World Health Organisation's (WHO) report: 'Health, Wellbeing and Productivity in Offices: The next chapter for Green Building' (2014). The report states that poor mental health costs UK employers £30 billion a year though lost production, absences and time spent replacing staff who leave. WHO identified that that indoor air quality, thermal comfort and acoustics have a direct impact on the performance and wellbeing of occupants, as well as organisational financial outcomes.
The relationship between the building services and occupant health appears to have a direct impact on maximising the return on investment for companies. The outcomes include reduced absence costs, greater employee productivity and higher retention and recruitment rates. A case study by the WHO (2014), which measured the relationship between performance and temperature, revealed a 10% decrease in employee work ethic when temperatures were at 30oC and 15oC compared to a baseline between 21oC and 23oC.
Jamieson says: "When engineering is done right people don't notice it. We are about creating great work places for people that in turn makes businesses maximise their efficiency, engineering is a really important part of that."
Mechanical systems have adapted over time. In the past offices were fitted with VAV systems for pipped fan coils, but now days they tend to be VRF systems, chilled ceilings, displacement systems. Additional changes like exposed services have also become a trend driven by aesthetics, cost effectiveness and improving the experience of occupants.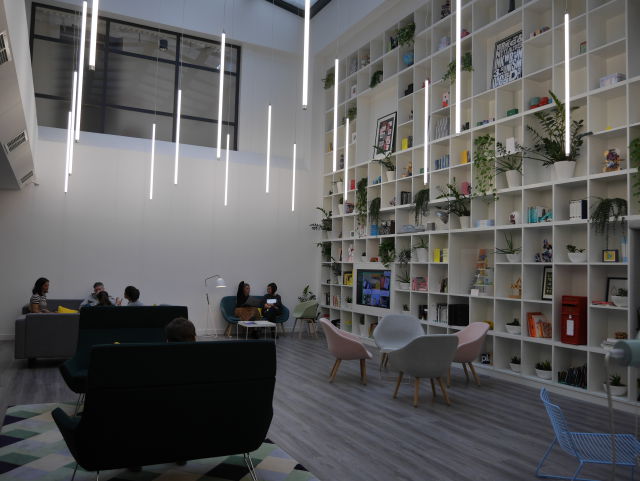 Jamieson says: "How offices are being used has changed massively. It used to be everybody sat in their own individual office with a secretary sat outside, now-days it's much more open-plan."
Property management experts Cushman and Wakefield also looked into the changing office. Its report, 'The office as a service' (2015) explains that the increased demand in flexibility is influenced by a change in work economy, generation changes and the rise of independent economy. Access to technology like smart devices means that employees no longer need to work at a desk which encourages flexible working.
The growing demand for companies to recruit young people also creates the need for workspaces to adapt to the generational changes in behavioural demands. These include: combining work and personal lifestyles, thriving off collaborative workspaces and unrestrictive working hours.
The rise of 4.6 million people being self-employed in the UK, has also encouraged the demand for co-working spaces. This is reflected by the British Council of Offices which stated recently: "The rise of operators like the Office Group and WeWork underlines the strength of demand for new ways to occupy office space. This in turn is being fuelled by employers' desire for flexibility and the need to attract and retain the best talent."
The change to more flexible working spaces has caused greater adaptations to the project delivery. Controlling and operating the heating, ventilation and air condition systems across open planned systems have created the need for engineers to work across the team during the project.
Jamieson explains: "As an engineer now, I work on the engineering but by sitting within a whole team we look across the board. My team follows the project right the way through from the design stages, through the procurement, construction stage, commissioning and then aftercare. Because we are working right the way throughout, it allows us to hold on to that specification."
Moo's offices offer a view of the evolution of the traditional workplace and set a standard for future offices. Putting people at the heart of decisions about the building design, has a direct impact on occupant wellbeing and productivity.
Related articles: