Stepping up boiler control
Maximising use of on-board and cost-effective optional controls is a simple step that can enhance both boiler and system performance, says Paul Arnold
Brexit aside, 2019 is set to bring new challenges for the building services industry, with the forthcoming reviews of Building Regulations – including Part L – anticipated to set new tighter standards for building energy performance.
Heating has long been identified as a natural target for efficiency improvement. Ensuring that the heating equipment is energy efficient is the acknowledged cost-effective first step towards reducing energy demand. But implementing a well thought out control strategy is essential to optimise system efficiency.
Applying new generation Building Energy Management Systems (BEMS) on larger projects, for example, will typically deliver cost savings of 10-20%. But it's important not to forget the smaller, cost-effective steps that can be taken to improve energy control – such as enhancing heating efficiency and performance levels through effective use of smart boiler controls.
Commercial boilers are a core component of heating systems in many non-domestic buildings, whether the sole provider of heat or working alongside renewable and low carbon technologies.
Condensing boiler technology has evolved to such an extent that today's advanced boiler models are capable of achieving near maximum efficiencies and ultra-low NOx emissions. But here too, effective control is critical if they are to achieve these results in real world conditions. In fact, according to the Carbon Trust, inadequate or incorrect boiler control can increase fuel consumption by 15% compared to a well-controlled system.
Hence the value of optimising use of the latest smart boiler controls to maximise operational performance and keep energy demand, heating bills and emissions low. And the benefits continue, as well-controlled boilers will contribute to a more comfortable building environment that improves occupant wellbeing and ultimately increases productivity.
Of course, boiler controls are not a new concept. But commercial boiler controls have historically tended to be overly complex and time-consuming to use.
Without total buy-in from heating engineers, facilities managers and building operators, controls will simply not be used to their full effect. So forward-thinking manufacturers have gone back to the drawing board, re-engineering controls to make them more user-friendly and easier to navigate.
Product design has taken a leap forward with the introduction of next generation control platforms with a simple interface designed to provide engineers with rapid access to greater technical detail. Thanks to the easier navigation, installation, commissioning, servicing and diagnosis are all more straightforward, reducing time, labour and lifecycle costs while ensuring greater accuracy.
Replacing codes and symbols with full text also makes the controls more intuitive for the building operators, facilities managers and energy managers who use the system on a day-to-day basis. So equipment performance can be monitored at the touch of a button and settings swiftly readjusted to match building use and occupancy, enabling more effective energy management.
Maximising the energy and carbon saving potential offered by smart on-board boiler controls makes perfect sense – especially as they come at no extra cost.
Boilers like Remeha's new Quinta Ace range, for example, are not only fully modulating – using their own complex algorithms to meet heat demand as efficiently as possible – but are supplied with time and temperature controls as standard.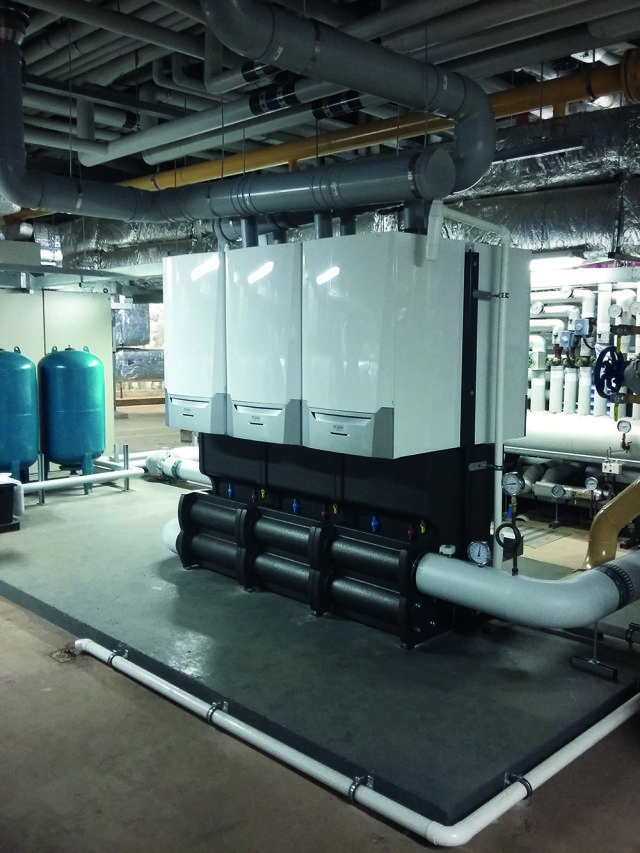 As non-domestic buildings will have varying heat requirements in the week and often no need for heat at the weekend, the ability to set and adjust time controls easily will help match the operating hours more accurately. The same applies to holiday periods when some buildings might be vacant.
Effective use of temperature controls helps avoid the problem of under or overheating. A report from the World Green Building Council underlines the connection between temperature, wellbeing and productivity, revealing that occupant performance falls by 6% on average in a room that is too hot and by 4% if the temperature is too cold. So smart temperature controls can be instrumental in generating the optimum learning and workplace environment – as well as reducing unnecessarily high heating bills.
A full boiler control strategy should include optimisation, weather compensation, multiple zone control and multiple boiler sequential control in addition to time and temperature control. So it's worth considering allocating a small budget for these additional controls.
A weather compensation controller adjusts the flow and return temperatures of the boiler according to the outside temperature to achieve optimum heat supply and so prevent energy waste.
Adding multiple zone control is also recommended to help use energy more effectively, as different areas of a building will have different heat requirements. Within an office building, for example, the corridor will require less heating than an office workspace. The same applies for school buildings where the gym will clearly have a lower heat requirement than a classroom.
Installing multiple boilers in a cascade arrangement enables the boilers to make full use of their fully modulating feature, adapting to fluctuating demand for more efficient energy use. Adding a sequential controller to this design rotates the lead boiler, lengthening the serviceable life of the boilers.
This information is then fed into the BEMS. While smaller projects may not require a BEMS, on larger heating systems, it's worth identifying boilers that enable BEMS connection via in-built 0-10V and volt-free contacts without the need for additional parts.
Making full use of these smart controls is a simple but effective means by which the building services industry can help customers achieve and maintain high comfort levels while improving energy performance for reduced operating costs and minimal emissions.
As assessing the operational energy performance of buildings is set to take on increased importance, smart heating controls will play a key role in monitoring and, ultimately, reducing energy consumption. We look forward to supporting consulting engineers and contractors with our future-proofed heating technology as we continue to innovate with increasingly smart controls to enhance individual product and system performance.
Paul Arnold is product manager of Remeha
Related links:
Related articles: