Better buildings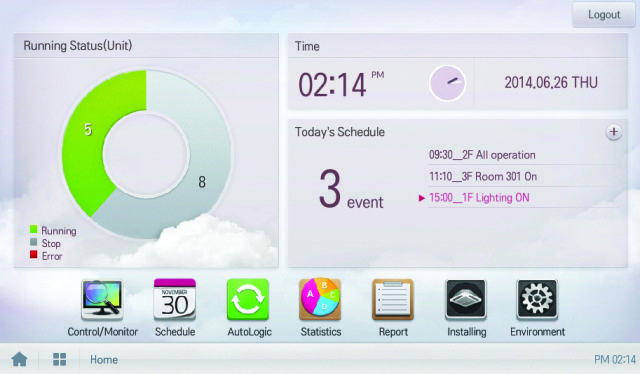 Donna-Marie Evans considers the crucial role of HVAC in delivering better buildings.
The construction industry has spent some time concentrating on what goes into well-designed, engineered and constructed buildings, with a view to making them better. HVAC plays a huge part in this, as it is intrinsically involved in every day of a building's life. And it contributes to every stage of a building's lifecycle.
The technology of air conditioning is advancing at an extremely fast pace with changes and improvements to product functionality and performance. These include advances in the ease of installation and use.
Improved HVAC equipment brings many benefits to building owners, managers and occupiers: Energy efficiency; noise reduction; better air quality; improved well-being and comfort. What's more, new technology offers the ability to better monitor and control. This applies to areas such as energy use, but also to ongoing maintenance programmes. A lot of this work can now be undertaken remotely, reducing downtime for equipment and disruption to building users.
External temperatures are rising each year, and it seems highly likely that we will experience another hot summer in 2019. According to the Committee on Climate Change, there are around 2,000 heat-related deaths in the UK each year and this is expected to increase.
Although air conditioning systems for cooling are sometimes installed, this is not always a cost effective or efficient way to achieve the aims set out. Simply using air conditioning as a blunt instrument to address the increased periods of hot weather we are experiencing in the UK, would not help to reduce the UK's carbon footprint or improve energy efficiency levels. However, using modern air conditioning systems to provide an all-round solution – that encompasses cooling, heating, the provision of domestic hot water and ventilation - makes it a far more attractive option.
In accordance with the Climate Change Act, the UK government has an obligation to cut carbon emissions by 57% from 1990 levels, by 2050. The Carbon Trust estimates that the heating and hot water use of a building's total energy consumption is around 60 per cent. It is thought that around 80% of today's buildings will still be being used in 2050, so it's clear that retrofit will be required and HVAC systems will be called upon to go some way to helping reduce carbon emissions whilst improving the energy efficiency in existing buildings. New buildings are being designed to cope with the increased rise in temperatures and the new technologies in the HVAC sector are playing their part.
Looking at a replacement heating and hot water system, or replacing an old, inefficient air conditioning system will certainly reduce a buildings environmental carbon footprint. It will also increase energy savings and be easier to operate, as modern air conditioning systems are cleaner, greener and smarter, with many technologically advanced features offering much more than just cooling alone.
This is specifically the case in commercial applications where VRF systems are called upon to answer the questions. VRF systems recover waste heat and use it cost effectively and energy efficiently to provide cooling, heating and hot water for areas such as kitchens, showers, radiators and underfloor heating systems.
One of the most topical areas currently for VRF installations is their specification alongside hydro kits which extract heat from a VRF heat pump or heat recovery system, to provide domestic hot water. Seeing waste heat escape to atmosphere is very much becoming a thing of the past.
The capacity to recover heat and use it sensibly elsewhere is part of today's thinking when designing a new building and heat recovery has reached a level of sophistication where there is always a way of re-using the heat you have already paid for, in another application. This approach provides hot water effectively and efficiently.
VRF systems not only provide exceptional comfort, are highly efficient and reliable, but they are highly regarded by building managers and business operators due to their advanced controls which makes operation simple, and results in no wastage - saving energy and expense, as well as making the building a more comfortable environment.
VRF equipment connects to some of the most advanced, intuitive and innovative control solutions, many with web access and gateway functions enabling users on their respective smart devices to easily monitor and control a variety of functions without limitations. Intuitive user-interfaces help owners to conveniently check the operating status of their air conditioning system and its schedules at a glance. As owners are able to visually check a unit that wastes energy, they can easily adjust the energy consumption to reduce inefficiency and lower running costs.
As a result, air conditioning equipment in its widest definition, can play a big part in reducing a building's overall energy load, from offering a greener alternative to fossil-fuel products, advanced controls for monitoring the system as a whole, enabling users to easily improve the operation where and when required, along with improved features for the individuals comfort such as filters for cleaner indoor air quality and direct/indirect airflow from fan coil units for their well-being and productivity, and provide cooling to areas prone to overheating while recovering any wasted energy. All this, while keeping the appearance of a building architecturally pleasing and noise levels down. Manufacturers of air conditioning systems continue to improve and upgrade their technologies.
Whilst the latest equipment and technology helps to provide better buildings, the development alongside the technology of making it easier to install is also constantly being improved. Lighter, ever more compact units are being developed that don't need to be craned onto rooftops, with longer pipe runs for system flexibility, or split condensers where both the indoor and outdoor units can be placed internally in a building, where outside space is at a premium.
And there is now an array of different indoor units developed specifically to meet different needs. It is essential for those involved in the design and production of new buildings to keep up-to-date with these new technologies, how to apply them and maximise the efficiency and life span of the units. Manufacturers, such as LG Air Conditioning and Energy Solutions, run hands-on training courses and encourage both designers and engineers to attend them, to find out about the latest product advancements.
Donna-Marie Evans is marketing manager at LG Electronics, Air Conditioning and Energy Solutions
Related links:
Related articles: