Trox discovered in Birmingham Uni labs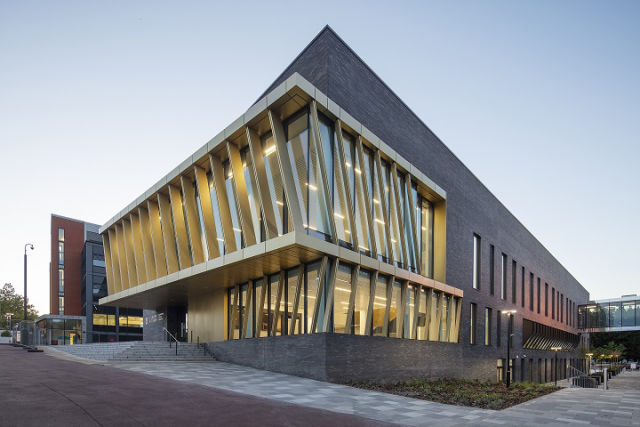 Trox Easylab air management systems, VAV units, and fume cupboard controllers have been chosen to optimise energy efficiency at the new BREEAM 'Excellent'-rated Collaborative Teaching Laboratory (CTL) at the University of Birmingham.
Completed in August 2018, the new-build facility represents an investment of over £40m in the field of Science, Technology, Engineering and Mathematics (STEM). The new CTL building has a striking design, using large amounts of glass to reflect the spirit of collaboration and community engagement driving the project, and featuring a large angled brise-soleil made from gold anodised aluminium which projects over the main entrance.
In addition to promoting interdisciplinary engagement across the different departments of the university, the new building is designed, internally, to lower the amount of redundancy present when running multiple single-disciplinary labs. The aim is to create spaces that are utilised for a greater percentage of the time, with the ambition of achieving occupation rates of up to 70%.
The energy consumption of laboratories is often three to four times that of offices on a square metre basis, due to higher cooling loads and the requirement for larger volumes of conditioned air for equipment such as fume cupboards. This can mean that laboratory buildings are responsible for between 50% and 80% of the total energy-related (non-residential) carbon emissions of research-intensive universities.
To meet the demanding criteria for the new CTL, laboratory air management specialist TROX was approached to provide best-in-class solutions capable of optimising energy efficiency whilst maintaining the appropriate safety and comfort conditions for building occupants.
Related links:
Related articles: