Gilberts new louvres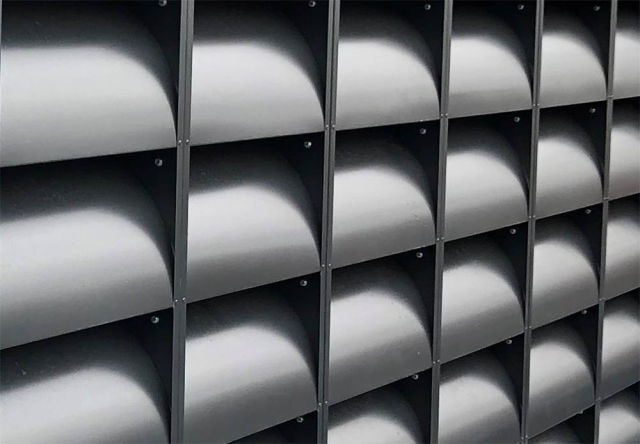 Air movement specialist Gilberts has extended its range of acoustic fixed and screening louvres to enable architects to balance a building's aural and visual impact. 
The additions include a choice of continuous and curved blades, which offer the same sound reduction capability as the established linear versions. These new arcing blades bring the number of blade profile to acoustic attenuations options now available as standard to 12. The products can be supplied on their own, or delivered as a part of a supply-and-fitting package.
All of the Gilberts' louvres can be supplied in PPC, PVF and PVF2 powder coated to any RAL colour. In some instances the louvres can be anodised, further enhancing the products' aesthetic potential.
The louvres can deliver sound transmission loss of up to 33dB, depending on specification. This is balanced against appropriate airflow to ensure adequate ventilation of any plant behind the louvres. The louvre banks interface with the exterior building fabric via steelwork frames, cladding or direct to the brickwork. 
Assemblies are produced as standard in sizes 300x300 to 1500 x 2000. Gilberts prides itself on offering bespoke solutions for projects. Using a modular approach on site, louvre screens as long and as high as required by the project can be designed and fabricated as required - even with contouring and graduations.
Related links:
Related articles: