Waterloo brings breath of fresh air to Studley Castle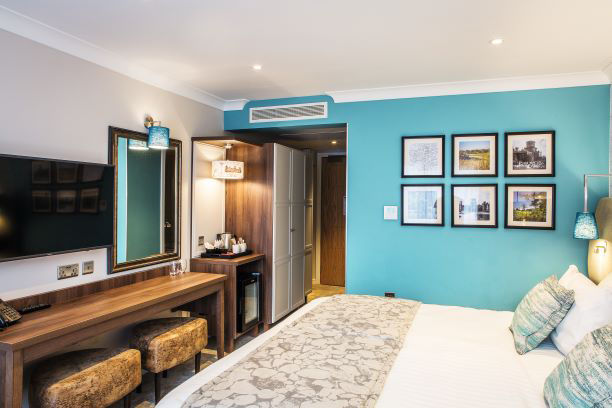 Waterloo Air Products' grilles, air valves and diffusers have been used extensively throughout the renovated Studley Castle, successfully creating the perfect environment at Warner Leisure's new landmark hotel.
Set in 28 acres of Warwickshire countryside, this Grade II-listed, 180-year old Gothic Revival style castle was originally designed by Samuel Beazley, the leading London theatre architect, as a family home.
Since being bought by Warner in 2016, Studley Castle has undergone a three-year, £50m restoration and the original building has been refurbished for modern use, and a spa created in the former stables. The investment has also resulted in an entirely new hotel wing with 210 bedrooms, a cinema, two restaurants, bars, lounges and a cabaret venue. The hotel is air-conditioned throughout.
Creating a unified hotel aesthetic was equally key. Waterloo was specified as the sole supplier due to its reputation for quality product operation and design. Working with M&E Service Contractors LJJ, Waterloo was tasked with supplying a combination of grilles, air valves and circular diffusers that would deliver the required high performance while blending seamlessly into the décor.
The maintenance aspect was another area that benefited from Waterloo's expert technical and product support. To enable easier future maintenance of the air conditioning, Waterloo provided a dual-purpose combined air grille and access grille. The grilles were spring loaded to enable them to be pulled down without tools, making them maintenance-friendly while maintaining the aesthetic feel of the building.
Gerry McNally, project manager at LJJ explains: "The architect and client had a very clear vision of what they wanted to achieve with this building, and it was our job to combine aesthetics with functionality to make their vision a reality. Waterloo took on board all the requirements and worked closely with us, attending client meetings and paying regular site visits to review the project."
Related links:
Related articles: