Overcoming complexity
Scott James discusses the key aspects that need to be considered when designing pipework for complex buildings and the benefits of using a press connection method.
When working on large scale projects, designing the water, heating and gas distribution pipework needs careful consideration, as the size and complexity of the project will mean that any misjudgements in product choice, pipework layout, dimensions or materials can have serious ramifications further down the line. Getting the specification and design of the pipework correct is vital to the function of a building and the safety of building occupants.
One of the most common problems with incorrectly specified pipework is low pressure. This is the result of the pipe being too large or too small, which means that the supply pressure cannot be sufficiently maintained or that the pipework has restricted the water or gas being supplied. For building occupants, the resulting low flow rate is an inconvenience as it will take longer to do basic tasks such as filling a bath or kettle.
From a safety perspective, a low flow rate could also cause serious injury to the end user should a mixer valve not be installed and there be a sudden rise in water temperature which could result in scalding injuries. Ensuring correct pipework design and pressure is also integral to protecting the quality of water within a system. By achieving optimum system pressure and flow velocity, stagnation and contamination of a system can be prevented. A design that results in water stagnating because of low flow rates or flaws in the layout could be a potential breeding ground for bacteria such as Legionella Pneumophila to grow and spread.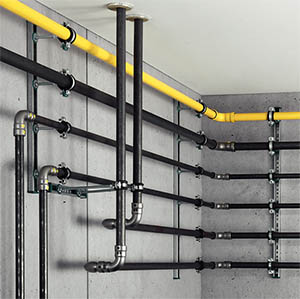 Additionally, for those working with gas in a kitchen, if the pressure of gas to the burner drops dramatically it can cause incomplete combustion, producing potentially lethal carbon monoxide. This is why the BS 6891 standard for mains gas installations states that for domestic pipework there should be a maximum pressure drop of 1mbar during periods of highest demand.
The choice of pipe, the number of fittings and the design of a system can also cause friction in the pipework and reduce the flow. However, by reducing the number of joints, bends and elbows in the pipework the friction in the system can be reduced. Selecting a low friction pipe material such as copper will also make a difference.
When it comes to selecting the pipe connection method for a complex build, contractors are increasingly recognising the benefits of press connection technology over soldering, as it offers a significant time saving. The process is straightforward and requires minimal preparation of the pipe as the connection can be completed in just four simple steps. Installers need to cut the pipe to size, deburr the inner and outer edge of the cut surface, slide the press fitting onto the pipe and press the connection. The press gun is easy to use and automatically applies the correct pressure to complete the connection.
In addition, as the connection process is completely heat-free, there is no need to wait for the joint to cool before work can continue – this in itself can be a significant benefit on a more complex system where any down time will impact the project overall. The press action is also clean and unlike soldering there is no need to remove excess materials from the surface of the pipe once the joint has been made.
By minimising the amount of preparation and finishing work required a robust connection that can be achieved significantly faster when compared to alternative methods. For example, Viega's Megapress press connection system was recently tested by BSRIA against welding, threading and grooving methods and found that the press fit approach provided a 78% time saving installation compared to welding and 35% compared to grooving when pressing ½" to 4" diameters.
Despite soldering and welding being considered the go-to method for decades, press connections also offer a key safety element. Hot works may be difficult in tight corners or in areas with a higher risk of fire or combustion and the risk of both injury to the installer and damage to adjacent areas has to be considered. However, press connections are a cold-applied system and therefore do not present this risk or require a hot works permit, or the additional labour costs of a post-installation 'fire-watch'.
Crucially, the Health & Safety Executive (HSE) Bulletin also recently reclassified mild steel welding fume as a human carcinogen. As such the HSE is re-evaluating stricter regulations when it comes to welding and a local extract ventilation (LEV), supplemented with respiratory protective equipment (RPE) will be required where the engineering controls do not adequately control exposure. This includes welding outdoors where RPE must now always be used. This not only adds another potential health and safety risk to installers but will inevitably increase the overall cost associated with welding on a project, an additional expense that is not incurred when using press connections.
It is also important to consider the specification of the joints and fitting themselves. For large buildings, this is particularly important because of the thousands of connections that need to be installed, each of which can have an impact on the performance of the system.
Although initially appearing to have a greater cost per fitting, higher quality press connections are engineered to optimise the flow of water and lessen the amount of resistance through the design of the internal structure and deflectors. By selecting fittings that have very low resistance coefficients (zeta values), pressure loss can be reduced by as much as 80% compared to standard designs. For example, a standard design connector with a zeta value of 13.9 will result in the pressure loss of 95mbar while a flow optimised alternative, with a zeta value as low as 2.7 will result in a pressure loss of only 18mbar across the same system.
For complex builds where multiple pipe materials are required, it is also important to consider a versatile system that can be used across the whole development. Most press connections can be used across all pipework materials such as metal, multilayer pipe, copper and thick-walled steel in a variety of sizes, and at a range of temperatures and pressures. Some manufacturers may also supply adapter components that can allow the connection to be integrated with existing threaded pipe in retro-fit projects.
Finally, leakage testing of the system is also simplified when using press connections, especially if a single system is used throughout. The nature of the press connection method means that the joint is either fully pressed and secured or missed entirely. If this is the case and a leak is discovered, the missed fitting can be pressed immediately without the need to drain the section or dry the area around the joint.
It is important to select a system that ensures the fitting will leak when tested if unpressed. Poorly designed products may hold during testing only to begin leaking when the building is complete and occupied – resulting in the need for costly remedial work. Following an installation, the nature of a high-quality press connection method means that the joint is either fully pressed and secured or not pressed. For example, the SC-Contur technology included within Viega's fittings guarantees a visible escape of water from the connection when the system is filled for the first time. It also allows dry testing with an inert gas, where a measurable drop in pressure will occur if a connection has been missed.
For buildings that require a complex pipework system, it is especially important to consider the products, design and materials to ensure it meets the necessary requirements - and this is especially vital when considering press connections. By selecting a manufacturer that produces high quality press connections, compatible with a range of materials and applications, projects will be guaranteed improved safety, efficiency, security and reliability.
Scott James is managing director at Viega
Related links:
Related articles: