Advertorial - Helping you to meet Building Regulations' latest ventilation requirements and the Future Homes Standard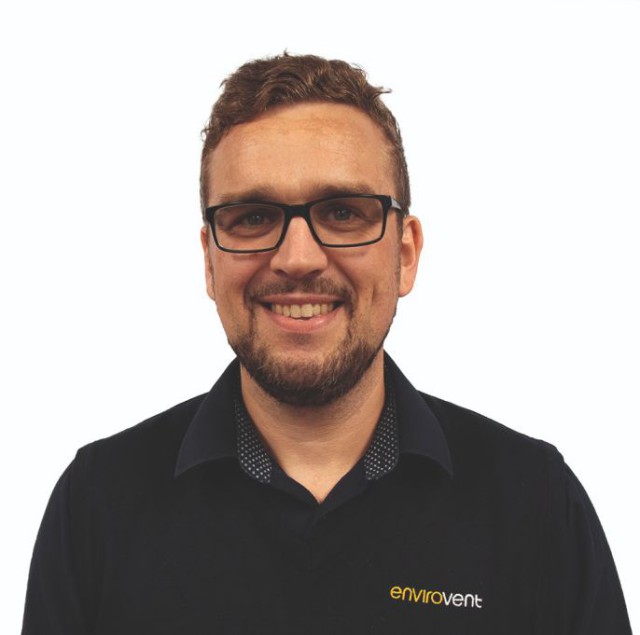 Mark Isles, Sales Director – Build at EnviroVent, discusses the changes the ventilation industry has gone through in the past year and how EnviroVent has enhanced its support package for specifiers and housebuilders to ensure they can meet and exceed the updated building regulations around ventilation.  
2022 was a year of significant change in the ventilation industry. Major updates to Approved Documents L, F and O were introduced in a move towards the Future Homes Standard, which will require a 75% reduction in carbon emissions when it is introduced in the UK in 2025.
The new regulations mean that specifying the right ventilation system is more important than ever – and that's where EnviroVent comes in.
A solutions provider in to housing for 35 years, EnviroVent works with developers, M&E consultants and specifiers from the early stages of design, to ensure a ventilation strategy is compliant with Building Regulations, SAP, environmental conditions or Passivhaus requirements.
As one of the UK's largest ventilation manufacturers, EnviroVent designs, supplies and consults on ventilation solutions, across the UK for new build residential homes and multiple occupancy buildings, such as apartments, student accommodation and care homes.
Main changes to building regulations
As the Government progresses with its target of achieving Net Zero carbon emissions by 2050, significant changes were made to building regulations in 2022 that are presenting our industry with a number of challenges in ensuring good indoor air quality.  Mainly in relation to achieving more stringent ventilation requirements within increasingly airtight dwellings and varying urban environments.
The updated building regulations, which include changes to Part F, L and O1 are a precursor to the Future Homes and Building Standard for new homes, which is due to be introduced in 2025. These standards will require all new build homes to be future-proofed with low carbon heating, effective ventilation and world-leading levels of energy efficiency. It also sets out the ambitious target of reducing levels of carbon in new homes by 75% by 2025.
Your trusted partner in meeting the new regulations
EnviroVent has been serving the housebuilding industry for three decades and over the past 12 months has enhanced its support package for specifiers and housebuilders to support with meeting and exceeding updated building regulations around ventilation. 
This includes accredited CIBSE and RIBA CPD's and a suite of live 'bitesize' webinars on a range of relevant topics, covering Part F, L and O, creating quick and easy to understand learning content on all the key changes to the building regulations. These are now available to access online, along with technical guidance that explain the changes in simple terms.
Training and guidance – every step of the way
The company has recently appointed two new Heads of Specification – Andrew Firth and David Frimpong – who lead our sales teams in the north and south, respectively. They will head a national team with additional desk-based team support, serving developers and building services clients, providing complete UK-wide operation.
As an approved NICEIC training provider, EnviroVent provides accredited residential ventilation courses to support industry professionals in delivering compliance. The company also provides technical design support on site, covering the latest ventilation best practice and installation compliance.
Free ventilation system design service
Also available to our clients is EnviroVent's free ventilation system design service, which takes the complexity out of ventilation system design and specification.

The company's specialist design team uses bespoke BIM-compliant Revit design software to provide a full ventilation design service, specifying the most suitable and efficient system for your project to meet Building Regulations and SAP requirements.  The service is fast, free and with no obligation.
Building services specifiers can also choose to use EnviroVent's online easyVent® product selection software, which allows you to select fans and ventilation systems according to application, along with providing technical, performance, energy and acoustic data to enable you to easily specify ventilation projects all in one place. Simple and intuitive to use, easyVent® allows you to create, customise and print your ventilation project using BIM objects.
Wide product range to suit all types of home
EnviroVent has a solution for all types and sizes of property. This includes a wide range of planet and installer friendly products, designed to meet all regulations and requirements in a multitude of applications.
For airtight dwellings, EnviroVent's MVHR (Mechanical Ventilation with Heat Recovery) systems, such as the energiSava range, are becoming an increasingly popular residential solution. EnviroVent's MEV (mechanical extract ventilation) covers both centralised and decentralised ventilation systems, helping to reduce excess moisture either through multi-point extraction or single fans in wet rooms.
In addition, EnviroVent is the market leader in whole house PIV (Positive Input Ventilation) systems, with a BBA approved option for new build dwellings. Ventilation is improved in the home by encouraging movement of air from inside to outside from a unit sited delivering good indoor air quality and compliance.
The company is continually enhancing and evolving its product range to meet housebuilder requirements and in 2023, this will shortly see the company launching a new range of Passivhaus compliant MVHR systems. 
Every product and system in our comprehensive range has been designed and meticulously tested to deliver optimum performance.
 Sustainability and the move to Net Zero
EnviroVent prioritises corporate social responsibility and understands the importance of sustainability, reflected in a major commitment to reducing its carbon footprint. In 2022, this included setting out its commitment to achieving Net Zero by 2030, through its 'Roadmap to Net Zero'. This means that as a company, EnviroVent will save emissions totalling over 1,000 tonnes of carbon over the next 10 years. 
2022 also saw EnviroVent invest heavily in a carbon neutral, purpose-built headquarters in Harrogate. The new facility, which features increased UK manufacturing capabilities, utilises sustainable methods incorporating air source heat pumps and solar generation.
  A ventilation partner you can trust
As one of the UK's leading ventilation manufacturers, EnviroVent has the expertise and capabilities to be the industry's trusted partner, ensuring you meet Building Regulations' requirements, whilst working towards the Future Homes Standard and achieving Net Zero.
To find out more about how EnviroVent can help you rise to the challenges facing the industry in 2023 and beyond, visit www.envirovent.com/building-services
Related links:
Related articles: