Building a future on the expertise of building-services engineers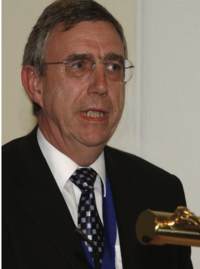 The latest Building Regulations and the run-up to them over several years mark a sea change in the approach to the design and operation of buildings. CIBSE's new president, DAVID HUGHES, sees the role of building-services engineers as vital in this transition.When David Hughes, the new president of the Chartered Institution of Building Services Engineers embarked on his career a little over 40 year ago in the early 1960s, building services were simple. David Hughes says in his presidential address 'Engineering for life', 'Offices were heated, had openable windows, and the majority of our homes still had open fires. But it was an exciting time to join the profession. 'The 1960s economy was booming. Our homes were beginning to be refurbished with central heating, and air-conditioning installations reflected the growing confidence of the commercial office market.' Energy was not an issue then. The North Sea was providing cheap and abundant fuel, and the embryo nuclear industry promised cheap electricity.'
Contrast
In contrast, the issues of today involve energy supplies, and carbon-dioxide emissions associated with burning fossil fuels causing global warming — with all its attendant threats. During David Hughes's career, the role of the building-services engineer has evolved to include mitigating the problems of the diminishing supplies of carbon-based fuels, their security of supply and climate change. While building-services engineers have the expertise to deliver energy efficient buildings, they do not control the majority of appliances. However, it is people that emit carbon — not buildings. That is why David Hughes argues the need to tackle energy efficiency at the point of use and generating energy from non-carbon sources. To him, that implies micro-generation at the point of use. 'Who can manage this apart from building-services engineers?' he asks. 'It seems our boundaries are being redefined and our horizons widening as a result.'
Wider definition
David Hughes stresses the need for a wider definition of the profession of building-services engineer, made necessary by working with more and more other specialists and needing to be involved with buildings from inception to demolition. The issues are challenging and require innovative, not easy, solutions. Nor can building-services engineers solve global issues by themselves; they have to work closely with all part of the teams responsible for constructing and operating buildings. 'To meet these challenges, we have engaged some heavyweight support,' he says — referring to the role that has already been played by CIBSE and which continues to develop. In particular, David Hughes praised the work of recent past-presidents of CIBSE — 'including the inimitable Terry Wyatt, who has done so much to get our industry to recognise the need for action and the great value that we can add to our businesses by accepting that challenge'. He also acclaims the leadership provided by Graham Manly and Donald Leeper, both past-presidents of CIBSE, 'in getting us to recognise the value of working closely with all parts of the industry'.
Essential role
David Hughes summarises, 'All of them have contributed to a situation in which the expertise of CIBSE members and their essential role in addressing the greatest challenges of our age are recognised.' The need for the expertise of building-services engineers is, of course, that buildings in the UK consume half the energy produced. That much has been known for many years, and CIBSE members have long felt the urge to reduce and control energy consumption in buildings. Unfortunately, getting those ideas accepted has never been easy. Times have moved on, and the need for dramatically reducing energy consumption and carbon emissions has not only be recognised by Government but legislation has also been passed.
Legislation
'Thank goodness for legislation,' says David Hughes. Now we have some heavy ammunition and can advise our clients that they are required to adopt services strategies which are right in energy terms and that cost is only one measure of a successful outcome.' David Hughes traced through some of the legislation, starting with the Renewables Obligation in April 2002, the aim of which is to achieve 10% of electricity generation coming from renewables by 2010, rising to 20% by 2020. Unfortunately, wind power may be less efficient than original expectations. That increases the need for combined heat and power and tidal technologies. Government policy for CHP is to achieve 10 000 MW of electrical capacity by 2010 and to implement micro-generation. David Hughes identifies five micro-generation technologies. • Combined heat and power. • Hydrogen energy and fuel cells. • Small hydro. • Wind. • Solar photo-voltaic. In general, he perceives local generation as having distinct advantages. Transmission losses are reduced, and the power network becomes more resilient by improving generation at the point of use. The local generation of electricity may also, as David Hughes argues, focus the thoughts of building users and operators on the amount of energy they use. Even more recently, the publication of new Building Regulations will have a major impact on the working lives of building-services engineers.
Intellectually demanding
In particular, he draws attention to the new Part L (conservation of fuel and power) and stresses, 'Complying with the regulations is going to be much more intellectually demanding and require much more innovation and clear thinking. The easy, habitual solutions will no longer be viable.' Support for the need of the expertise of building-services engineers continues with the requirement of systems to be checked in accordance with CIBSE Commissioning Code M to demonstrate compliance with Part L. The building-services engineer will also be left with a feeling of satisfaction that systems and their controls are left in working order and will use energy efficiently. While the 2006 Building Regulations have addressed the issue of designing buildings to reduce carbon emissions, they have also embraced some of the requirements of the Energy Performance of Buildings Directive to make links with building operation and facilities and energy monitoring and management. 'This legislation has become the foundation of the integrated design and construction process,' says David Hughes. The point has now been reach where Building Regulations require buildings to be built or refurbished to approved standards and that construction and energy standards are verified as part of the process of completion and acceptance. New prominence The role of CIBSE now assumes a new prominence. 'CIBSE has already played a proactive part in forming the legislative framework within which our members operate, producing a comprehensive and growing range of publications that support both members' activities and the demands of carbon reduction,' says David Hughes. 'We are now part of the fabric of the Building Regulations, with our specialist literature referenced extensively in the relevant legislation.' New roles are emerging for building-services engineers, and CIBSE has been looking ahead for some time to ensure its members are prepared.
Low-carbon register
David Hughes explains that CIBSE is putting in place strategies to deliver 3000 trained and registered people competent to carry out low-carbon design and operation of buildings. Their expertise will enable them to deliver and measure carbon savings for new buildings and refurbishment projects. CIBSE is also targeting a marketing campaign at clients to raise awareness of and demand for low-energy and low-carbon design. Those on CIBSE's register of competent people will be able to assure Building Control Officers that their plans fully meet the provisions of Part L. They will be able to sign off their own work and that of others. The vision is that people on the register will be capable of going beyond the carbon-performance requirements of regulations. They will also be required to refresh and enhance their abilities through specific continuing professional development activities. However, exciting as are the prospects for imaginative and exciting approaches to reducing the carbon footprint of new buildings, it is tackling the existing building stock that will have a far greater impact. That point is emphasised by CIBSE's campaign 100 days of carbon clean-up, which started on 5 June with 500 participants. The campaign will create demand among businesses for excellence in the carbon management of existing buildings. Participants will be required to provide a summary of their carbon savings over 100 days and will receive 'Investors in carbon' certificates.
Operational ratings
This initiative will be used to encourage the use of operational ratings as routine tool for building energy management to reveal the potential for reducing energy consumption and carbon-dioxide emissions. Over the next 10 years, it is anticipated that engineers on CIBSE's register of low-carbon consultants will refurbish over 10 000 buildings of over 1000 m2 and deliver carbon savings of 445 000 t.
This article is based on the CIBSE presidential address of David Hughes. The full version is available online at www.cibse.org
Related links:
Related articles: