The great collaborator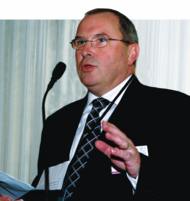 Partnering used to be a good idea. Now it's a necessity. That is if you want to deliver a major construction project on time and to budget, according to one of the industry's leading strategic thinkers.At the turn of the Millennium, partnering was all the rage. People talked of little else — and that talk went on for quite a few years. Charles Lever was no different from many other senior engineers in those days. He, too, was buzzing with ideas about collaborative working and integrated teams, but what sets him apart from the crowd is that in the intervening years he has taken the concept and turned it into a major business engaged in over £1.5 billion worth of projects. Today, partnering has become a 'groan' word for journalists: 'Oh, no, not another article about partnering!' But you won't find anyone at Taylor Woodrow Construction (TWC) groaning. In 1997, a Tesco store in Blackpool took 37 weeks to build from structural steel stage. Today the programme for a similar store is 16 weeks, and costs have been slashed. In 1990 the average store cost £2370/m2; now that is below £1510/m2. How? Strategic partnering. In 1999, amid all that excitable talk, Taylor Woodrow Construction formed the Strategic Alliance Partnership (SAP). This was an alliance between its building-services division and a number of key suppliers. The alliance agreed to work in partnership, sharing information, personnel and the risks of a project. The result was a radical turnaround in how construction projects are tendered, planned, organised and delivered. The man who has driven SAP from concept to reality and £1.5 billion worth of construction projects is Charles Lever, head of building services at TWC and now promoted to head of strategic alliance partnering across the entire £600 million TWC portfolio — so adding structural steelwork, groundworks and concrete frames, building envelopes and dry-lining to his building-services responsibilities.
Culture change
Charles Lever joined TWC in 1992 from Andrews Weatherfoil, where he was divisional manager. He is a chartered engineer with broad experience that has taken him from an apprenticeship at the North Western Electricity Board to facilities manager for Saudi Arabian airlines in Jeddah via a stint as a building-services engineer in the prison service. His naturally strategic approach to engineering challenges has served him well in all of those capacities, and he is now sharing that experience with the rest of the industry through his role as chairman of the CIBSE Patrons group. However, taking on the working culture of an entire industry has to be his greatest challenge to date — and by far the most difficult. 'Yes, this is a massive undertaking, but the progress we have already made is hugely rewarding and there is so much more to come. SAP is actually a stage beyond partnering,' he says. 'Typically with project partnering, cost savings of 2 to 10% can be achieved. With strategic partnering, savings of 30% are realistic over time. If we can roll this out across even 25% of contracts, just think of the potential — both financially and in terms of improved quality and delivery.' SAP began as an alliance between Taylor Woodrow Construction as main contractor, along with M&E contractors NG Bailey, Staveley and Rotary. These four firms were, in effect, the top-tier partners and adopted an open-book approach that took away any mystery about who was earning what from a project. This practice evolved into the creation of a single entity with one fully integrated management structure, which would bid for and deliver projects. 'This is light years away from where the industry was seven years ago,' says Charles Lever. 'We removed the source of most unhappiness — uncertainty over payment — cut the bureaucracy and delays and created an environment where people could just get on with their jobs and deliver the project.' From that top tier cascades a series of specialist supply partners offering niche engineering services and products to the alliance. TWC had nearly 3000 supplier organisations working for its building services division four years ago, but with SAP that is down to fewer than 200. This gives those chosen firms continuity and certainty so they can plan ahead and build in the quality improvements that clients have been clamouring for. 'Claims and variations have also fallen sharply from the days when we used to beat sub-contractors around the head to get their lowest price.' he explains.
Duplication
The structure dramatically reduces duplication of effort and personnel as well as removing the need for the endless rounds of meetings that are so characteristic of 'traditional' contracts. TWC claims that the SAP approach has delivered over £3 million of annual savings and that clients are delighted with the results. 'Normally we would expect to spend 3% of the value of a building-services contract simply on managing the work. On our SAP projects that cost has come down to 0.3%. On a £10 million job that means we have saved the client £30 000 simply by cutting out the duplication that is rife on UK construction sites.' The recently opened building of the Welsh Assembly is an excellent case in point and one that stands up extremely well in comparison with the Wembley Stadium and Scottish Parliament fiascos. Not only is the Welsh Assembly a stunning structure, but also it stuck to its timetable and budget. Richard Wilson, head of the assembly building's project team, was impressed. 'I have closely observed the way in which the SAP has operated and has delivered technical solutions to what is a complicated and challenging design,' he said after the opening. 'The benefits of this procurement route appear self-evident, not only in terms of value for money for the client, but also in improved efficiency and responsiveness to changing requirements.'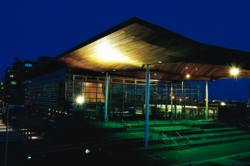 The key to the completion of the recently opened Welsh Assembly building on time and to budget was the way the members of the strategic alliance partnership were able to work together harmoniously.
Keep moving
The ability to adapt quickly and without fuss to design changes is a key element of any SAP project. Whereas the traditional project team might be thrown into convulsions by the need to change work in progress, an integrated team will simply re-evaluate the task in hand and keep the project moving. This should make interest reading for the London 2012 team, which must wake up in cold sweats at night with visions of Wembley and their own immovable deadline. 'These days it is simply not possible to deliver major construction projects on time and to budget unless you adopt a collaborative approach,' says Charles Lever. 'Dinosaurs do still roam our industry, trampling our good intentions underfoot, but Wembley has shaken everyone to the core, and the industry simply cannot afford to replicate their mistakes. 'The Olympic Delivery Authority does seem to have taken this on board, and there seems to be a real determination to get this right.' There is a sense of inevitability about culture change across the industry, slow and painful though that progress is at the moment. 'The industry is moving away from selecting contractors on competition to selecting on competence,' said Peter Andrews of SAP partner NG Bailey at a recent TWC workshop. 'Partnerships allow contractors to make money and to innovate. We currently have 80 major customers, but we will be working for far fewer in five years time. Some won't exist and some we won't want to work for because they don't allow us to make sensible profits.'
What a waste
This approach is long overdue. Scandalously, UK construction spends seven times more on lawyers and litigation than it does on research and development. It also blows £3.5 billion a year just on tendering because of the multitude of sub-contractors forced to bid for packages of work. We are also wasting £1 billion on duplication of insurance policies. There are other important benefits. According to research carried out by Loughborough University, up to 50% of accidents on building sites could have been avoided by a change to the design made earlier in the process. Integrated teams are far more likely to make those timely and potentially life-saving changes. 'We still have problems to overcome, particularly in communicating the philosophy to the vast majority of the industry that works at site level,' admits Charles Lever. 'SAP projects are 18% better than the industry average in terms of efficiency and performance, but that is not good enough. 'We want to do better, and we will because we now know the system works. It has weaknesses, but that is where the measuring and monitoring comes in. We drive that relentlessly because without the information you can't show the value to clients or drive improvement. And we will keep driving because we know we are on the right road. There is more information about Taylor Woodrow's Strategic Alliance Partnership on the web site below.
Related links:
Related articles: