Simply solar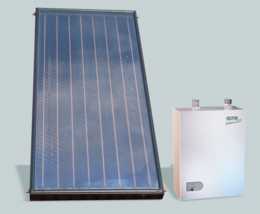 Future energy efficiency legislation is moving ever closer to including a code of practice to ensure all new build uses renewable energy source to help meet its heating and hot-water needs.
Nick Stevenson
believes that the simplicity and accessibility of solar thermal will make it first choice for heating engineers.There is no doubt that the solar thermal market is now set to grow — fast. There have been a number of false dawns for this technology, but clear initiatives from the Government regarding renewables, including the micro-generation strategy and the Low Carbon Buildings Programme, mean the simplicity and accessibility of this form of solar energy will make it a prime contender in the future. This is particularly true for light-commercial and domestic heating and hot water. Renewable energy is derived from inexhaustible sources such as the Sun, wind, water and sustainable plant material. The use of these natural resources helps conserve other, non-renewable sources such as fossil fuels and, more importantly, significantly cuts carbon dioxide emissions to reduce the environmental impact of energy generation.
Strong economic case
Of additional interest to the end user is that renewable energy can be virtually 'free' and a typical solar energy system can fulfil 50 to 60% of the annual requirement for domestic hot water. With the inevitability of rising fuel prices, this provides a strong economic, as well as environmental, case for its adoption. Solar technology is only one of the alternative energy options gaining increased popularity in the UK. Combined heat and power, ground-source heat pumps, wind turbines and biomass burners all have their part to play, but have some additional hurdles to overcome — either because of their complexity, cost, or, most notably in regard to wind farms, their aesthetic impact on the landscape. Solar thermal has the advantage of being one of the oldest of the renewable solutions and has been tried and tested over many years. With a regulatory force behind it and growing awareness of the need for energy efficiency in the home amongst consumers, the demand for solar will rise. As a result, installers need to be prepared to meet their customers' requirements in order to secure their business.
Simplicity
The simplicity of solar over all the other renewable technologies makes it accessible to every installer; no specialist knowledge is required aside from participation in a recognised training course. The technology relies on the Sun's energy to heat the water inside the solar panels, usually located on the roof, which is then transferred to the hot water tank. The quantity of heat generated depends on the time of year and number of hours of daylight. However, the panels work as well with diffused solar radiation as they do in direct sunlight and can operate efficiently, even on a cloudy day. A solar-powered heating system uses skills and technology derived from a standard system, although additional health-and-safety precautions need to be employed in positioning and fixing the roof panels. The main difference is the water cylinder; a twin-coil tank is required — one coil to carry hot water from the condensing boiler as usual and the other to carry hot water from the solar panel. The controls will then monitor the hot water from the solar panel and instruct the boiler to supplement the supply if required.
Kits
Because solar installations are so straightforward, several manufacturers have begun to supply systems in kits with varying content. Keston's philosophy for example, has always been to pioneer cutting-edge engineering and supply products that are at the top of their field in terms of quality, energy efficiency and performance. In addition, we strive to ensure our products are as simple to install and easy to use as possible, and we can now offer a range of solar pack options to meet any specification. Our solar pack for new installations comprises a solar controller to ensure maximum benefit is extracted, a glycol antifreeze additive, full water controls and high-performance titanium-coated selective-surface absorber panels giving 95% absorption and only 3% thermal emission levels. Such panels can withstand temperatures of up to 232°C. Other features include silicon weatherproofing. Such a solar pack can be connected to a Keston Spa Twin double-coil tank and virtually any Keston condensing boiler to provide renewable and high-efficiency heating and hot water. Low-iron tempered glass transmits 91% of the solar energy. Kits are available with a 200 litre twin-coil tank for domestic installations and with a 300 litre tank for commercial applications. If an existing central-heating system is being upgraded to incorporate solar, we can provide bespoke kits without the boiler and/or tank, as all our products are compatible with most other manufacturers' equipment.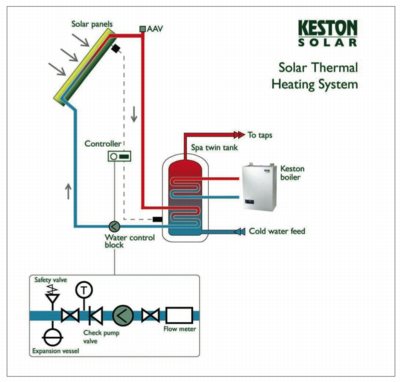 — The key to exploiting solar energy to produce domestic hot water is a coil with two cylinders. The lower coil is served by the solar panel and the upper one by the boiler.
Opportunities
The ascendance of renewable technology and the demand to install or enhance traditional heating systems with access to an alternative and sustainable energy source, will generate significant income opportunities for heating engineers. The simplicity of solar makes it accessible to all installers and the availability of knowledge, expertise and high performance solar thermal products will allow you to take full advantage of the opportunities presented by this emerging market.
Nick Stevenson is managing director of Keston Boilers Ltd.
Related links:
Related articles: