Practical solar energy
Solar energy technologies for buildings are no longer limited to add-on technologies. They can now be integrated with the fabric of buildings — with significant cost implications. CLARE HAWTIN tells the story.The political climate has seen the UK Government set targets to reduce carbon emissions by 20% on 1990 levels by 2010 and for 10% of UK energy to come from renewable sources by 2010. The UK Climate Change Programme combines both regulatory and obligation based measures with fiscal and support measures to place the UK on a path to reduce carbon emissions by 60% by 2050. The Government has already committed £1.3 billion a year of national incentives to help consumers and businesses tackle emissions of carbon dioxide1. Stephen Timms, UK Energy Minister, has said, 'If we are to meet this formidable challenge, it is vital that individuals and corporations commit to investing in renewable energy technologies.'
Commercial benefits
Investing in solar energy is one way for businesses to contribute to this challenge. Solar has made the journey from being considered valuable only by environmentalists to being a viable investment bringing many commercial benefits. Solar provides a clean energy resource, and innovations in this technology mean it can be part of the building envelope, adding a design feature, cutting energy costs and helping build a socially responsible brand image. Solar energy technologies are no longer limited to panels bolted onto the roof or outside a building. They can now be integrated seamlessly into the fabric of any building by utilising building-integrated-solar (BIS), offsetting costs of conventional products, which they replace during construction or refurbishment. With BIS it is no longer necessary to undermine design aesthetics. Indeed, this technology can enhance the look of any building, whether it be a roof, facade or canopy.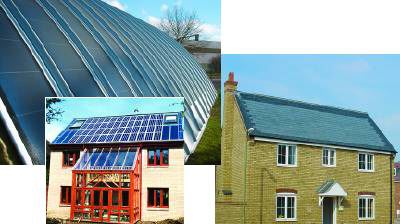 Solar products that can be used as building facades include metal roofing (LEFT: image Solar Century), roofing slates (below: image PV Systems) and solar roofs (below left: image PV Systems).
The effect of luxury façade materials such as marble can be created, with no limit on colour. Solar glass can be used to create façades or roofs, with the bonus of dappled shading, helping to reduce air-conditioning costs. Low-emission glass can bring thermal insulation benefits. Solar metal roofing products, designed to mimic the look of standard metal roofing, include insulation — reducing heat losses and generating electricity concurrently. Solar tiles and slates, look like ordinary roofing materials. Integrating solar into the fabric of a building requires no additional or unusual construction materials, or methods. Standard construction structures, fittings and material fixings are used.
Comparable costs
Despite misconceptions, the cost of solar in the fabric of the building is reasonably comparable with other, more conventional, materials, as summarised below. • Polished stone up to £1500 to £1750/m2. • Photovoltaics: £700 to £1000/m2 (Schüco quote); £750 to £950/m2 (Ove Arup quote). • Stone, £500/m2 — plus. • Glass wall systems, £350 to 500/m2. Stainless steel, £175 to £250/m2. Brand image is so important in our highly competitive market place to gain differentiation and attract more of the buying public than the competitor. Tony Juniper of Friends of the Earth argues, 'The biggest influence on companies comes from consumers.' With the rise of ethical consumerism2 visible demonstrations of corporate social responsibility are rapidly becoming important, if not vital, for a corporation to gain market differentiation. Ethical and socially responsible investment is acknowledged as sound long-term strategy and imperative in business if a company is to survive. Investing in solar energy technologies can place any corporation as a responsible and leading innovator, which can only invigorate the brand image, gain consumer trust and purchasing power, and raise investor profile. Investing in solar energy technologies in commercial scenarios is undeniably a long-term strategy, which brings many cost-saving benefits along the way. 'It is our belief that the twin objectives of environmental stewardship and increased productivity can be achieved simultaneously in the manufacturing sector. Carbon management, will help to further reduce our environmental footprint while at the same time allowing us to … propel productivity to world-class levels,' say John McCabe, corporate affairs manager, Alcan Smelting & Power UK.
Clean electricity
Solar power will generate clean electricity at point of need, with consequent savings on energy costs. Just a 20% cut in energy bills represents a 5% increase in sales3. 'We've already made great strides in reducing our own impact on climate change. Last year we generated the equivalent of 44% of our electricity from renewable resources and reduced our overall greenhouse emissions by 26%.' —Andy Wales, group sustainable development manager, Severn Trent Studies in Denmark have shown that installing solar power positively changes energy-efficiency behaviour, helping to reduce energy costs further. Payback for solar investment, if based only on current energy costs, is not so appealing. Long-term commercial strategy must take into account the expected rises in energy costs, which will affect and reduce the duration of payback. Exact predictions cannot be made on how energy costs will escalate. Using solar-energy technologies provides a solid solution that guarantees inflation-proof energy, and avoids the gamble of guessing energy costs. Businesses face indirect rises in energy costs, through the Carbon Levy set at 0.43 p/kWh of electricity. The rates are expected to rise as a reflection of international political concern about climate change. Investing in renewable energy, including solar, will allow exclusions from the levy on all energy supplied from a renewable source.
Financial incentives
The Government offers financial incentives to invest in solar energy technologies. They will continue and expand on the back of the Energy White Paper commitments. VAT is 5% for installed systems, with commercial solar projects attracting a 40% grant from the Department of Trade & Industry. Investing in solar energy brings many commercial benefits. Vitally, it leads the UK into an era of clean energy and towards the inspirational ambition of the UK Government to achieve a low-carbon economy by 2050.
Clare Hawtin is marketing manager with Imagination Solar 10-12 Picton Street, Montpelier, Bristol BS6 5QA. References> 1. Carbon Trust report 'Quantifying the UK's incentives for low carbon investment'. 2. The13% rise of ethical consumerism between 2001 & 2002 is a result of research published by the Co-operative Bank in the Ethical Consumerism Report (2003). 3. Action Energy Report, The Carbon Trust
Related links:
Related articles: