Seeing the wood for the trees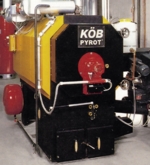 With the UK catching on to Europe's enthusiasm for wood-burning boilers, George Fletcher explains how to get the best from this carbon-neutral technology.Perfect combustion resulting in reduced CO and NOx emissions. Commercial biomass boiler efficiency of 90 to 92%, based on net calorific value for most modern designs. A sustainable fuel supply that's widely available within the UK, benefits the environment from its production, and can also provide much needed employment in the countryside. Sounds like Utopia doesn't it? But it's not. It's simply wood — and more and more companies in the UK are looking at the success of small- and large-scale biomass district heating in mainland Europe and considering its application here. Heating with wood means heating within nature's CO2 (carbon dioxide) cycle. Burning wood releases as much CO2 as trees extract from the atmosphere during their lifetimes. The equivalent quantity of CO2 enters the environment when the same wood is left to rot in the forest. Heating with wood is therefore not just CO2-neutral. It does not contribute to the greenhouse effect, also every kilogram of wood used in place of oil substantially reduces the amount of CO2 released into the atmosphere. Recently there has a number of successful installations of large-scale biomass heating systems in the UK, all contributing to a huge reduction in CO2 emissions. Well specified plant will operate automatically at continuously high levels of efficiency and with clean emissions. It is crucial, however, to ensure that the specification and system design is thought through, with consideration given to the following key points.
Fuel supply chain.
The lack of infrastructure for the distribution of wood chips and pellets is not the major barrier that it once was. Suppliers are increasing to such an extent that alternative suppliers are available in many parts of the country. However, chip size and moisture content are very important and must be matched to the boiler specifications.
Site issues.
The physical location of plant and integration with other services must be taken into account to allow for fuel delivery and reception requirements. Underground fuel stores or partially submerged fuel stores can accept deliveries from farm trailers, tippers, and walking floor bulkers and so offer the most competitive operating costs. Another important consideration is space for the fuel delivery vehicle to access the fuel store.
Boiler sizing.
Consider the options — perhaps sizing the wood boiler for the 'base load' and meeting peak demand with back-up oil or gas fired boiler, otherwise known as a 'hybrid' system. It is often dangerous to generalise, but a reasonable guide is to size the biomass boiler at around 70% of the peak design load. Buffer vessels are normally an absolute requirement and can be sized to cater for most of the short-term peak loads. The boilers are manufactured in steel so they must be fitted with return raisers; these are 3-port mixing valves and pumps to re-circulate the boiler until the return water temperature rises to a minimum level. This is generally 65°C, which means that if set up with a 15 K differential, the boiler flow temperature would be a constant 80°C.
Hydraulic and control issues.
These must be matched carefully to achieve an overall system that operates effectively. It is important that buffer vessels are not continuously circulated. This means that the biomass boiler and buffer vessel island must be hydraulically isolated from the heating and primary domestic-hot-water circuits.
Flue type, height, colour and appearance.
A chimney is essential for all biomass-fuelled boilers, so its size, route, and termination all need to be considered at the early design stage. Stainless-steel chimneys can be powder coated in a wide range of colours to blend with the surroundings or provide a feature. Also, avoid locating fresh-air intakes for ventilation plant near the flue terminal. Modern biomass boilers produce very little dust, but chimneys and flue ways will require regular cleaning. Biomass boilers are available with a wide range of outputs. KÖB, for example, part of the Viessmann group of companies, offers a range of biomass boilers. The DYN range of boilers is designed to burn pellets, chips, briquettes, or logs and range from 36 to 90 kW. Two further ranges are for larger commercial and industrial applications Pyrot boilers have outputs from 100 to 540 kW and incorporate a rotational combustion chamber and flue-gas recirculation to promote a high degree of turbulence to gives a long burn period, reduced dust levels and very low NOx emissions. The largest output range is the Pyrtec, with heat outputs from 530 to 1250 kW. These boilers can be fitted with flue-gas recirculation to enable them to burn pellets and very wet wood at high thermal efficiencies.
George Fletcher is technical sales manager — wood energy.
Related links:
Related articles: