Reducing the cost and disruption of implementing a BMS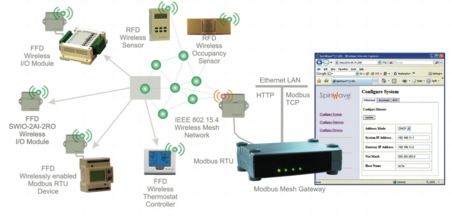 If the cost of an energy-management system to reduce energy costs is prohibitive, Dave Laurence advocates wireless technology.With energy costs soaring, implementing some means of reducing energy use is fast becoming essential. But for those managing smaller buildings, installing an energy-management system can be hard to rationalise in terms of up-front costs. The return on investment with a traditional system may take years to realise, so energy management often falls by the wayside. In addition, concerns about business disruption during an installation feed resistance by building owners towards implementing a BMS. The perception remains that BMS is too complex and costly for small buildings, and owners may be reluctant to commit to it. With wireless energy management, however, saving energy costs can become a reality — not sometime, but this fiscal quarter. The numerous advantages of wireless systems make installation feasible in a far wider range of buildings than is the case with traditional hard-wired systems. Wireless energy-management systems, consisting of flexible configurations of sensors, controls, and submetering devices, solve many of the issues that hold facilities managers and owners back from installing a BMS. •
Affordability:
Wireless is significantly more affordable to install than a hard-wired solution. It eliminates the hours of labour needed to pull miles of wire, often reducing costs to a quarter of those of a hard-wired installation.
•
Speed and convenience:
With easier installation come not only lowered costs but also no downtimes for building occupants' daily operations. Installations can go forward without having to move people out of their offices or rooms. They can also be completed in a very timely manner. Indeed, many installations can be done within a few days, so energy management can be implemented within weeks of getting the go-ahead to proceed.
•
Flexibility:
With the growth of wireless technology over the past several years, applications can now fit a wide range of buildings and business goals. The strongest feature of wireless mesh networking in an energy-management application is its scalability; a few sensing devices and a single control module can be installed in a small retail store, or hundreds of nodes and scores of controls can be used throughout a college campus. Systems can also be installed on a trial basis in part of a building, so if management wants to test out a system before committing to a full installation, wireless makes it fully possible to start small. Additional devices can be added to the trial installation at any time and will integrate seamlessly with the existing components.
•
Reliability:
Advances in technology and long battery life, mean that wireless mesh functions dependably in structures of all sizes. Mesh networking's noted ability to self-form and self-heal further enhances this reliability. Wireless mesh has performed reliably in virtually every type of commercial building, including hotels, restaurants, transportation facilities, commercial offices, health care facilities, and historic structures. Many energy-management systems being planned today are retrofits, and wireless is the technology that often makes these installations possible. Installing a wired energy-management system is frequently prohibitive in terms of costs, as well as disruptive to business. No one has the time to inconvenience their staff for extended periods of time while wires are run throughout a multi-storey building. The downtime is just not practical — and simply impossible for some installations. Construction materials themselves often prohibit the use of a wireless solution. Wireless sensors and controls make energy-management installations feasible in a number of buildings where nothing else would be possible. Wireless energy-management systems are now available that can be scaled to buildings of many different sizes, from relatively small commercial facilities to large industrial and residential properties. Typical features include the following. • Network mesh size with up to 75 full-function devices plus 150 reduced-function devices.
• Browser-based remote configuration and maintenance for convenient real-time monitoring and remote system control.
• Self-forming network which eases commissioning.
• Integration to open-protocol automation systems via Modbus RTU and Modbus TCP.
• Self-healing mesh makes the network outstandingly reliable. As wireless technology becomes more widely adopted, the potential exists to dramatically reduce the energy consumption of commercial buildings. Smaller buildings can now be a part of this transformation, as wireless technology's flexibility and affordability make energy management more possible on an unprecedented level.
David Laurence is with Adaptive Wireless Solutions Ltd
Related links:
Related articles: