Rehau devises new approach to extract heat from the ground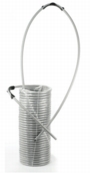 A new approach to extract energy from the ground for heat pumps has been developed by Rehau. PE-Xa Helix probes are sunk vertically 5 m into the ground using a simple auger drill attached to a JCB, eliminating the need for specialist equipment for drilling boreholes. They also overcome the problem of not enough area being available for ground coils.
Average extraction performance is 400 W, increasing to 700 W with favourable conditions such as more ground water. A typical house would need 10 to 15 probes.
Up to three probes can be linked in series. They can be combined with Rehau's polypropylene manifold chamber with its pre-integrated modular manifold for rapid and simple installations.
For more information on this story, click here:
Apr 09, 83
Related links:
Related articles: