Curtains on wasted energy

Correctly installed air curtains can save huge amounts of energy — and waste even more if they are badly installed — says Phil Chilton. With the latest Building Regulations putting energy-saving technology high on the agenda, air curtains fit the bill perfectly.
Doorways can be one of the biggest energy challenges in commercial premises, since an open door to welcome customers, or a doorway that's open frequently with high footfall, means expensively heated or cooled air is constantly lost to the outdoors.
But using an air curtain to create a fast-moving stream of air when access points are open to separate the treated air of the internal environment from the noise, draughts and pollution outside, maintains comfort and can save energy, reducing whole facility running cost. In fact, air curtains can cut the costs of both air-conditioning and heating systems by an industry-recognised 30%.
While an air curtain is not an impermeable barrier, and wind and building stack effects may still result in some air exchange across the doorway, a correctly selected and installed air curtain will significantly reduce the amount of air movement across a doorway. It is essential that the air curtain specified covers the whole width of the doorway and the airflow also reaches the ground. If this is not the case, draughts can still enter, negating the benefits the air curtain can offer.
These substantial cost savings offered by air curtains mean that rather than viewing the equipment as consuming energy, it is time to look at its potential to be a net saver of energy.
For example, the installation of a Dimplex CAB 1.5 m-long air curtain at the Clinton Cards retail outlet at Whiteley Village Outlet Shopping near Southampton produced immediate noticeable immediate benefits.
The store's open-door policy means that the doors are wide open for at least eight hours a day to invite shoppers inside, but the existing 12 kW air curtain was installed some distance inside the store and not directly over the door itself. In an attempt to make up for this inefficiency, it was set to run all the time during store opening hours, resulting in high energy usage and carbon emissions.
A Dimplex 13.5 kW unit was installed to cover the entire width of the entrance and set for automatic selection of its 'Eco' (6 kW) mode, and the default ambient setting (no heat), only activating the thermostatically-controlled heating capability if the internal temperature drops below the desired temperature.
For the 10-day test period in April 2010, the thermostat was set to 21.5°C to achieve an average internal temperature of 20°C. With external temperatures varying from 12 to 17°C, on some days there was no requirement for additional heat to bring the internal temperature up to 20°C. In fact, on six of the 10 days, the air curtain operated entirely on its ambient setting, effectively keeping draughts and external pollution out of the retail unit, but with minimal energy usage.
Energy costs for the test period were estimated at £13.50 (based on 10 p/kWh), compared with the £96 that the previous 12 kW air curtain would have used [a saving of well over 80%]. In terms of carbon emissions, based on an industry standard 0.51 kg/kWh of CO2, the new air curtain delivered a massive carbon saving of 421 kg over the 10-day test period, with emissions of just 69 kg compared with an estimated 490 kg from the previous 12 kW air curtain.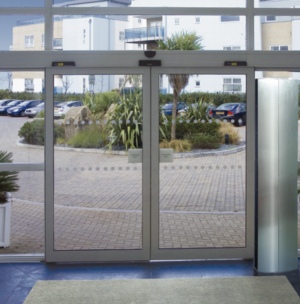 The group maintenance manager for Clinton Cards commented, 'The Dimplex air curtain significantly reduced our energy costs over the test period, compared to what we might have expected using the previous equipment. The automatic switching between ambient and eco settings requires no management from us, and dramatically cuts our energy use. Replicated across all our stores, these air curtains could make a substantial contribution to reducing Clinton Cards' carbon footprint.'
These results highlight the finding that a properly installed air curtain, correctly used on an appropriate setting, can deliver substantial energy and carbon savings — a far cry from the net users of energy that they are perceived to be. It is also interesting to note that although the output capability of the new air curtain was higher, it did not need to operate at that level to be effective.
To further reduce energy use, Dimplex air curtains are supplied with a built-in interface to a building and energy-management system (BEMS) interface as standard and have enhanced control options — including time, presence and temperature control to improve the overall performance of a heating or cooling system. For example, efficiency can often be improved by linking operation of multiple air curtains either directly or via suitable BEMS links to avoid conflicting operation.
Phil Chilton is commercial product manager at Dimplex.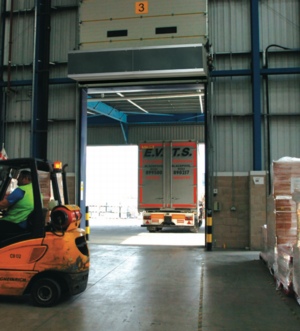 Related links:
Related articles: