Restoring the reputation of the cooling tower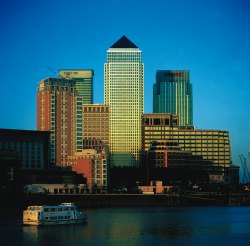 The benefits of cooling towers are so significant that the risks associated with maintenance and water treatment ought really to be overcome so that they can be fully exploited.The problem with cooling towers is that they cause outbreaks of Legionnaires' Disease. That is certainly one of the widely held perceptions of this method of rejecting heat from air conditioning, refrigeration and process cooling systems. Indeed, it was 20 years ago this month in April 1985 that cooling towers serving an air conditioning system at Stafford District General Hospital were associated with 68 people being treated in hospital for Legionnaires' Disease, of whom 22 died. There were a further 35 suspected cases. More recently, the outbreak at Barrow-in-Furness in August 2002 with over 150 cases was linked to cooling towers.
The exception
However, such problems with cooling towers are very much the exception. Bob Macleod-Smith, UK managing director of BAC Balticare, which specialises in contract maintenance for cooling towers, says, 'An outbreak of Legionnaires' Disease associated with cooling towers is extremely rare. When one does occur, it is always linked to lack of cleanliness or maintenance. Nowadays virtually all cooling towers in the UK have proper water treatment and a planned programme of care.' The cautious approach to using cooling towers that results from safety concerns prevents their technical, economic and energy-saving benefits being exploited. Energy savings are significant and arise from the cold water temperature from a cooling tower or condensing temperature of an evaporative condenser depending on the ambient wet-bulb temperature — rather than the dry-bulb temperature which determines the condensing temperature of air-cooled systems.
Large buildings
Put simply, every 1 K reduction in condensing temperature reduces the power consumption of a chiller by 3%. Since the wet-bulb temperature is typically 6 to 12 K lower than dry-bulb temperature, energy savings of as much as 30% can be expected. Typically water-cooled plant can be designed with a condensing temperature as much as 15 K lower than an equivalent air-cooled system. These savings are with compressors running. If a cooling tower can also provide free cooling, the energy-saving opportunities are increased. Heat-rejection plant based on cooling towers is also much smaller than air-cooled alternatives. That is why so many have been installed to reject heat from air conditioning systems serving large buildings where space for rooftop equipment is limited. An example is Canary Wharf at London Docklands. 121 cooling towers supplied by BAC serve 23 buildings with a total heat rejection capacity of over 300 MW. Likewise, the landmark Swiss Re building in the City of London has B.A.C cooling towers with 10 MW of heat rejection. BAC is also supplying cooling towers for Terminal 5 at Heathrow Airport and the new Wembley Stadium. Companies such as BAC Balticare stake their reputation on cooling towers at such prestigious projects never causing an outbreak of Legionnaires' Disease. Bob MacLeod-Smith says, 'The number of cooling towers that cause any problems in a year is very low, but there is no room for complacency. Outbreaks of Legionnaires' Disease linked to cooling towers can be eliminated by ensuring there are no deficiencies in water quality control or maintenance. 'These views are based on over 15 years' experience providing legionella risk management programmes for cooling towers.
Energy use
The importance of evaporative condensers in reducing energy use is recognised by their inclusion in the Enhance Capital Allowance Scheme. BAC evaporative condensers are on the UK Energy Technology List and thus qualify for 100% tax relief in the tax year they are installed.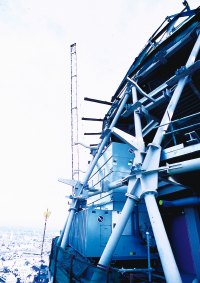 Six BAC closed-circuit cooling towers with a total capacity of 10 MW were specified by consulting engineers Hilson Moran Partnership as part of the central air-conditioning system for the Swiss Re building. The units are installed in a specially designed cooling-tower compound that takes up part of three floors near the top of the 40-storey building.
Bob Macleod-Smith also reminds us that details of cooling towers and evaporative condensers have to be registered with local authorities under regulations dating from 1992. The local authority also has to be notified if the equipment is moved or taken out of service. Other relevant legislation are the 'Health & Safety at Work etc. Act' of 1974 (HSWA) and the 'Control of Substances Hazardous to Health Regulations' of 2002 (COSHH). From an operational point of view the technical guidance from the Health & Safety Commission is the industry standard. The 'Approved Code of Practice & Guidance L8 "Legionnaires' disease — the control of legionella bacteria in water systems" ' gives practical advice on avoiding the risk of legionella from all potential sources — including cooling towers and evaporative condensers. 'The guidance is not a legal requirement,' he explains, 'but if something goes wrong and you have not been following L8 or something equivalent, you can be prosecuted.'
Programme
A good water treatment programme is one that tackles corrosion, scaling, microbiological growth and fouling whilst ensuring that each issue is addressed without prejudicing another. Too much focus on the legionella issue at the expense of control against corrosion and scaling has been a reason for unnecessary damage to towers and evaporative condensers. Dissolved iron resulting from corrosion is also a nutrient for legionella growth, so preventing corrosion is an important aspect of legionella control. Bob Macleod-Smith can talk at length about the complexities of water treatment for cooling towers and evaporative condensers. It is clearly a business to be entrusted to specialists if treatment is to be effective and the necessary safety standards maintained. Service providers concerned with the control of legionellosis have developed a voluntary code of conduct, which is administered by the Code of Conduct Association. While this code does not have legal status, it is acknowledged in the HSC document L8. As new refrigerants and compressor technology have enhanced the efficiency of air conditioning systems, it is surely appropriate to maximise the efficiency of heat rejection, and cooling towers and evaporative condensers are very efficient at this task. With water-cooled VRF systems now appearing on the market, the potential for cooling towers as a method of heat rejection has grown.
Balticare is at Waters Meet, Willow Avenue, New Denham UB9 4AF.
Related links:
Related articles: